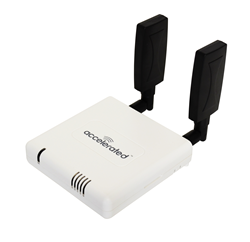 The 6300-CX can now provide Verizon wireless data network connectivity.
Tampa, Florida (PRWEB) April 28, 2016
Accelerated today announced that Verizon issued a congratulatory notice to Accelerated for achieving certification on the Verizon Wireless Open Development Certification Program. This notice allows Accelerated to begin shipping its award winning 6300-CX LTE Router for use on Verizon's wireless data network.
The 6300-CX allows any Ethernet connected device or network to utilize cellular wireless data for either primary or backup connectivity. With its carrier certified embedded cellular modem the 6300-CX supports LTE and 3G connectivity.
About Accelerated - Connected Is Everything™
Accelerated is an innovator in global cellular, cloud and network communications with industry-leading hardware and software solutions that expand primary and failover data connectivity and management capabilities. Since the creation of its flagship product NetBridge in 2006, Accelerated continues to innovate its line of cellular hardware, network management software and virtual private network (VPN) technology. Accelerated offers a range of wireless WAN (WWAN) products including the 6300-CX and 6300-LX products ideal for retail locations or even Machine to Machine (M2M) and Internet of Things (IoT) environments. More advanced communication technologies such as its 5301-DC Dial-to-IP™ Converter and its 5400-RM Cellular Out-of-band (OOB) Remote Manager, a compact, high-performance, remote network management platform complement its cellular expertise. All Accelerated products can be centrally managed using Accelerated View™ cloud-based network management software. Accelerated is headquartered in Tampa, Florida, with offices in Chicago, Atlanta and Brisbane, Australia. For more information, visit: Accelerated.com.