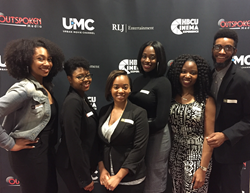 "Zoe Saldana did a great job, I learned a lot", said a Clark Atlanta University student.
New York, NY (PRWEB) April 26, 2016
The highly anticipated RLJ Entertainment release, NINA, starring Zoe Saldana and David Oyelowo made its HBCU debut on April 22, 2016 at the inaugural HBCU Cinema Experience. The interactive film platform provided an evening of entertainment, empowerment, and fun at Hampton University and Clark Atlanta University. The advance screening allowed students to see the film before it premieres in June on the UMC - Urban Movie Channel, a proprietary subscription VOD channel which is a division of RLJ Entertainment. NINA hit the big screen in select theaters nationwide on April 22, 2016.
The HBCU Cinema Experience provided UMC with a new method to reach the urban millennial generation. Students walked away from the HBCU Cinema Experience enriched, informed, and galvanized by the entertainment and information provided on campus. The capacity crowd at the Hampton University screening was treated to a student panel discussion after the film. "I thought NINA was a very powerful movie", said a Hampton University student. The movie was "brilliant", said another student who attended the HBCU film premiere. NINA also earned equal praise at the HBCU screening in Atlanta, GA. "Zoe Saldana did a great job, I learned a lot", said a Clark Atlanta University student.
Outspoken Media Group created the HBCU Cinema Experience to offer motion picture studios and television networks the opportunity to authentically engage African American millennials, provide students with hands-on experience, and build excitement for upcoming programming. Hampton University's School of Liberal Arts, Department of English and Foreign Languages, and Film Studies Program took full advantage of the proficiency the HBCU Cinema Experience offered its students. Attendees at the Hampton University and Clark Atlanta University film screening received a free 30-day UMC subscription and complimentary earbuds. In addition, 10 lucky raffle winners received a UMC annual subscription. "I got my free subscription to the Urban Movie Channel and I can't wait to see what else is on here", said a Clark Atlanta University student.
For more information about how you can bring the HBCU Cinema Experience to your campus email hbcucinemaexperience(at)gmail(dot)com.
About Outspoken Media Group
Outspoken Media Group is a full-service entertainment and multicultural marketing company based in New York City. The Company builds memorable and results-driven marketing campaigns for entertainment and lifestyle brands. It is a minority-owned and operated business, and has been providing solutions for clients since 2004. Outspoken Media Group develops customized marketing strategies that authentically engage African American millennials. For over 10 years, the Company has been able to successfully influence consumers, garner awareness, and increase bottom line profits for clients. Outspoken Media Group specializes in experiential marketing, branded entertainment, creative development, digital & social media, public relations, and brand strategy. For more information, please visit http://www.outspokenmedia.net.
About RLJ Entertainment
RLJ Entertainment, Inc. (NASDAQ: RLJE) is an entertainment content distribution company in primarily North America, the United Kingdom, and Australia. RLJE's titles are distributed in multiple formats including broadcast television (including satellite and cable), theatrical and non-theatrical, DVD, Blu-Ray, digital download, and digital streaming.
With its popular OTT branded channels, Acorn TV (British TV) and UMC (Urban Movie Channel), RLJE targets distinct, premium audiences and Urban niche audiences. The company grows its proprietary digital channels through development, acquisition, and distribution of exclusive rights of program franchises and feature film content.
Through Acorn Media Enterprises, its UK development arm, RLJE owns all rights to the hit UK mystery series Foyle's War and is developing new programs. RLJE owns 64% of Agatha Christie Limited, which manages the intellectual property and publishing rights to some of the greatest works of mystery fiction, including stories of the iconic sleuths Miss Marple and Poirot. Through its proprietary e-commerce web sites for the Acorn brand in North America and the UK, the company also has direct contacts and billing relationships with millions of consumers.
For more information, please visit RLJEntertainment.com, Acorn.TV, and UrbanMovieChannel.com.
About UMC – Urban Movie Channel
Urban Movie Channel was created by Robert L. Johnson, Chairman of RLJ Entertainment and founder of Black Entertainment Television (BET). UMC is a premium subscription-based service which features quality urban content showcasing feature films, documentaries, original series, stand-up comedy, and other exclusive content for African American and urban audiences. New titles added weekly include live stand-up specials like Martin Lawrence Presents: 1st Amendment Stand Up and Comedy Underground Series, and performances featuring Academy Award® winner Jamie Foxx and comedic rock star Kevin Hart; dramas including Blackbird starring Academy Award® winning actress and comedian Mo'Nique, Isaiah Washington, and directed by Patrik-Ian Polk, and Playin' For Love, starring and directed by Robert Townsend; documentaries including Bill Duke's Dark Girls and I Ain't Scared of You: A Tribute to Bernie Mac; action/thrillers including The Colony starring Laurence Fishburne; and stage play productions including What My Husband Doesn't Know by David E. Talbert. For more information visit: http://www.urbanmoviechannel.com.
For UMC media inquires: umc(at)rljentertainment(dot)com
###