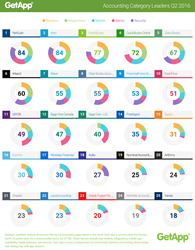 Netsuite and Xero finishing neck and neck in this category shows just how competitive the accounting software industry is
Barcelona (PRWEB) April 27, 2016
GetApp's Q2 2016 ranking of the top 25 accounting apps saw Netsuite and Xero tie for the top spot in this competitive category. Freshbooks and Quickbooks Online took third and fourth respectively in the latest ranking of the top cloud-based apps for small businesses.
The ranking is designed to provide small to midsized businesses with the information they need to choose the right piece of cloud-based software for their company. It's put together using five key criteria: reviews from GetApp users, presence on social media, number of integrations, security data, and the availability and rating of a mobile app for Android and iOS.
Each of the above data points are scored out of 20, with a maximum of 100 points up for grabs overall for each app.
"Netsuite and Xero finishing neck and neck in this category shows just how competitive the accounting software industry is. Netsuite made its way to the top spot by scoring a maximum of 20 points in both security and media presence. Xero, meanwhile, picked up full marks for both user reviews and integrations. Freshbooks took third place with high scores overall, while Quickbooks Online came out on top for mobile app availability, with a perfect 20 for its Android and iOS offerings, putting it in fourth place," says Suzie Blaszkiewicz, project manager and researcher at GetApp.
To find out more and to see the top 25 apps for accounting in full, click here.
More about GetApp: GetApp, a Gartner company, is the leading premium business app discovery platform on the web. Headquartered in Barcelona (Spain), GetApp serves as a platform for user-generated and editorial reviews of software and apps for businesses.
###