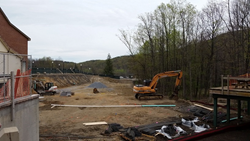 The 31,000-sq.ft. dining expansion will double the resorts wedding, event, and banquet capacity.
Franklin County PA (PRWEB) April 26, 2016
As April comes to a close, skiers and tubers are gone from the slopes of Whitetail Resort in Mercersburg PA. Though visitors are out of sight, they are definitely not out of mind as Whitetail Resort focuses on improving visitor experience with a 31,000-sq. ft. dining expansion in the Base Lodge. Holding a ceremonial groundbreaking and public announcement of the project on Friday, April 22, Whitetail Resort President and General Manager Don MacAskill overviewed the project to approximately fifty community representatives and partners. The project, solidly ahead of the groundbreaking phase, will incorporate the design elements of the existing lodge along with modern amenities to create a brick-oven pizzeria, expanded cafe, and a full-service restaurant on the second level. Anticipated completion of the dining expansion project is fall of 2016, the 25th anniversary of Whitetail's opening.
The Whitetail Resort expansion is in response to skier and snowboarder feedback. The brick-oven pizzeria will feature Italian fare and offer seating for 180 people. The cafe will feature coffee-based beverages and pastries and seat 150. The full-service restaurant will offer a variety of entrees, soups, and salads and seat 300. When not in use for the winter ski season, the space will double the resorts wedding, event, and banquet capacity.
"In continuing to focus on the guest experience, we're very pleased to be moving forward with this 8.5 million dollar renovation and expansion. This project demonstrates our company's commitment to improving guest service through significant investment back into our resort," said MacAskill.
Whitetail Resort is a year-round destination, offering Summer Adventure Kid's Camps, golfing on the Whitetail Course, and fly fishing at the Dusty Wissmath's Fly Fishing School and Guide Service. Whitetail Resort opened for skiing on Two Top Mountain of the Tuscarora Mountain chain in 1991. Whitetail Resort is a subsidiary of Snow Time Inc. and the sister resort of Liberty Mountain Resort and Roundtop Mountain Resort.
A visit to Whitetail Resort is just one of many ways to explore Franklin County PA. The Franklin County Visitors Bureau invites all to explore history, arts and architecture, recreation, natural beauty, fresh foods and the warm hospitality of communities like Chambersburg, Greencastle, Mercersburg, Shippensburg, and Waynesboro. Franklin County PA is located just north of the Mason Dixon Line and is an easy drive to Washington DC, Philadelphia, and Pittsburgh. Discover more....plan a visit soon at ExploreFranklinCountyPA.com or by contacting 866.646.8060.