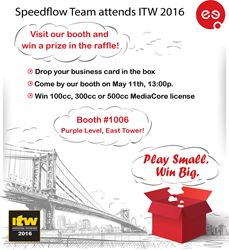 You are welcome to meet Speedflow Team at Booth #1006, Purple Level, East Tower.
London, UK (PRWEB) April 27, 2016
Speedflow, an established company with more than 12 years experience in the Telecom, Software and Development fields, will be attending the ITW 2016 conference this May (8th-11th) in Chicago. As a traditional participant in the ITW event, Speedflow will again be looking to present the best Wholesale and Retail offerings as well as Software Solutions. Interconnections for voice, SMS and development services are always welcome and you can find them on Booth #1006, Purple Level, East Tower.
Another tradition of the provider is the active organization of the ITW afterparty, called simply "The Party" - an entertaining event that is often one of the high notes of the whole exhibition.
The big surprise this year will be a raffle that will present a few lucky winners with the opportunity to use the MediaCore SBC free of charge. Everyone can participate by dropping their business card in the Mystery Box and returning by the Speedflow Booth on May 11th, 13:00p.m. for the winner announcements.
Contact info(at)speedflow(dot)com to get more details about the Speedflow ITW experience!