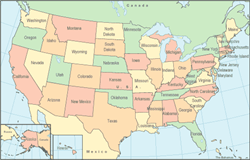 What's the average cost of water damage in your state?
Independence, Ohio (PRWEB) April 28, 2016
Consumers may be surprised to learn just how much water damage restoration may cost them in their home state. Restoration Local, a child company of 33 Mile Radius, works with 400 contractors in the majority of the United States to help homeowners in need connect with water damage restoration specialists. The insight the company has received from their contractors shows some surprising costs.
Most homeowners aren't as vigilant about water damage as they should be, which can potentially lead to problems down the road. The potential for a disaster is often underestimated, as burst pipes or damage acquired from storms aren't usually pressing concerns until after they've occurred. Many homeowners don't know how to spot the signs of water damage while it's still in its infancy, letting simple fixes become larger projects than they need to be.
While the average costs for water damage restoration services in the United States tabulates to $2,990, some states have worked harder than others to attribute to that figure. Averages for states like Nevada and Florida come in at nearly double what homeowners should expect to pay in other areas of the country.
The Ten States with Highest Water Damage Restoration Costs
While some states boast average costs that are reasonable, falling within the realm of affordability for most homeowners, some states boast shocking highs. If you own property in one of the following states, you'll find you may need to make some considerations regarding the risks that water damage may impose on your home.
1. Nevada: $4,910
2. Florida: $4,400
3. Minnesota: $3,630
4. Massachusetts: $3,430
5. California: $3,420
6. New Jersey: $3,350
7. Texas: $3,280
8. Washington D.C.: $3,250
9. Georgia: $3,220
10. Pennsylvania: $3,200
This data excludes Vermont, South Dakota, North Dakota, Hawaii, and Alaska, as Restoration Local does not yet serve these states.
For the full breakdown of averages in each state they serve, please click here.
What Can Be Determined From These Figures
A variety of factors contribute to these average restoration costs. In some situations, the cost of labor and materials in these states may be slightly higher than others. The magnitude of these costs can also be attributed to other sources that are far more complicated. It could very well be that these states are subject to a multitude of factors that can cause or hasten water damage.
For example, many areas of Nevada are subject to flash flooding. Florida is covered in waterfront property, and also highly susceptible to hurricanes. The winters in Minnesota and Massachusetts are harsh, which can lead to pipes freezing and thawing, causing the weakened pipes to burst. Georgia has humid summers, which can support the spread of mold in garages, closets, and basements. Certain environmental factors can multiply the risks of serious water damage, depending on the region in which the affected property is located.
These figures could be significantly lowered if homeowners understood the risk of water damage on their properties and were quicker to implement preventative measures. There are plenty of steps a homeowner can take, such as repairing roof issues the moment they appear, waterproofing vulnerable crawlspaces, or regularly inspecting their pipes, that can reduce the potential for serious water damage that would require restoration services.
Early detection and prevention are the keys to bringing this figure down. Water damage left unchecked becomes more serious over the course of time, and extensive damage simply costs more to repair. Homeowners should keep a watchful eye over vulnerable areas of their homes, setting safeguards in place when necessary. Preventative measures are always a worthy investment, especially if a few small expenses are substantially less than the average cost of restoring damage. At the first signs of water damage, homeowners should contact a restoration specialist to deal with issues the moment they arise.
About 33 Mile Radius
33 Mile Radius is a lead generation and marketing company that offers a host of services to contractors. Through domains like Restoration Local, they gather leads for experienced, reliable contracts, and help them find homeowners in need of their assistance. Offering more than just water damage restoration connections, 33 Mile Radius continues to expand their lead generation arsenal.
33 Mile Radius provides everything a contractor would need to grow their business and become more profitable, such as valuable search engine optimization services, reputation management, and web design. They aim to be flexible and affordable, only billing contractors for valid leads. With a trail of ecstatic B2B customers in their wake, the company is continually strengthening their client base and expanding their services.
About Restoration Local
Restoration Local, a 33 Mile Radius Company, works to make the process of locating contractors more efficient for homeowners in need. With their primary focus on water damage restoration services, Restoration Local are leaders in what they do. They aim to provide customers with valuable information about spotting the signs of water damage, protecting their homes from risk factors, and knowing what to do in the event they experience a disaster.
Restoration Local serves homeowners in the majority of the United States by collaborating with over 400 contractors. The company understands how difficult it can be for homeowners in an unfortunate situation to find and research a contractor who will be able to help. By providing free estimates and keeping the lines of communication open around the clock, they soften the adversity for homeowners during their trying times.