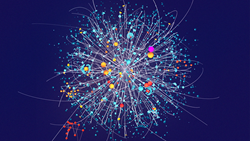 It doesn't look like every other college promo video. And that's exactly what we wanted.
Chicago, IL (PRWEB) April 27, 2016
When Northwestern University's McCormick School of Engineering recently released A Different Way Of Thinking, a film that explores the school's unique "whole-brain" approach to engineering, some were surprised.
"It doesn't look like every other college promo video," said Kyle Delaney, Northwestern Engineering's Executive Director of Strategic Initiatives and Marketing, about the fast-paced 90-second "assault on the senses" reminiscent of an action-packed movie trailer. "And that's exactly what we wanted."
The film, which combines design, motion graphics and live action with audio clips sourced from 16 hours of interviews with McCormick faculty and students, was created by Mode Project, a Chicago-based design and production studio that has created brand films for clients that include Frontgate, United, LiveOne and Gogo.
"Colleges and universities," explains Mode Project Principal and Creative Director Colin Carter, "are more brand-focused than ever, because they see the value in telling a story that's meaningful, authentic and different. But telling a story that's different means looking at your communications goals in a different way, and unlike the larger higher education consultancies that have been stamping out similar-looking films for colleges across the country, we're able to apply to apply a problem-solving approach that many schools haven't considered before."
Designed to engage an audience of prospective students and faculty, alumni, donors, partners and more, the film embraces the complexity of the engineering school's mission, and aims to appeal to those who welcome that complexity, rather than taking a simpler approach designed for broader -- but less targeted -- appeal.
"We're thrilled with the work that Mode Project did for us," added Delaney. "The film has been performing really well across multiple channels, from Facebook to live events. And our team is proud to have a piece that captures our story and mission so well."
In addition to its education work with schools like Northwestern and DePaul University, Mode Project also collaborates with some of the world's leading ad agencies to produce campaigns for brands such as Boeing, Ore-Ida, Illinois Office of Tourism, and CDW.
About Mode Project:
Mode Project creates meaningful content to help agencies and brands achieve their communications goals. The Mode team offers concept development and creative services for broadcast and digital media, including production, design, animation, editorial and finishing.
Visit http://www.modeproject.com for more info.