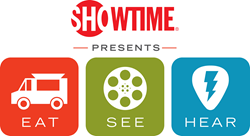 We are gearing up for a great season, and we thought Dirty Dancing would be an excellent film to start out the summer.
Los Angeles, California (PRWEB) April 27, 2016
Los Angeles outdoor movie, food truck and live music event series Eat|See|Hear kicks off its fifth anniversary season on May 7 with the 1987 romantic drama, Dirty Dancing. This event will be held at Santa Monica High School's Memorial Greek Amphitheater, located at 601 Pico Blvd. Showtime is at 8:30 p.m.
"We are gearing up for a great season, and we thought Dirty Dancing would be an excellent film to start out the summer," says Sharon Sperber, co-owner of Eat|See|Hear. "Dirty Dancing is one of the most beloved romantic movies of all time, with a very broad appeal. Whether you've seen it many times or if you're seeing it for the first time, you're sure to enjoy it."
As always, a live band performance is also planned for Eat|See|Hear's May 7 event. The dreamy rock 'n roll group, Summer Twins, will take the stage at 7 p.m. Plenty of food trucks will also be on hand, including vendors providing vegan, vegetarian and gluten-free food options. Food trucks will be open for business at 5:30 p.m.
After May 7, the fun continues. On May 14, Eat|See|Hear will return to Santa Monica High School to showcase The Princess Bride, an annual screening of this classic fairy tale with a modern twist. Eat|See|Hear will travel to Pasadena City Hall's Centennial Square on May 21 to present a 30th anniversary screening of the 1986 musical fantasy film, Labyrinth starring the late David Bowie and Jennifer Connolly. During Memorial Day Weekend on May 28, Eat|See|Hear will show the comedy film, The Big Lebowski, at the Autry in Griffith Park.
That's just the month of May. Each Saturday night through the summer months, Eat|See|Hear will show a different movie and another indie band will perform, with the last event of 2016 slated for September 17. Tickets for all summer 2016 events can be purchased online at http://www.eatseehear.com/tickets/. When purchased in advance, general admission tickets cost $14 each for adults and $8 for children 5 to 12 years old, and are free for children 5 and under.
"You can also purchase tickets at the door the night of the event," Sperber says. "Sometimes our events sell out in advance, so we encourage everyone to purchase their tickets in advance so we know how many food trucks to book. We post low ticket alert updates on social media if there is a chance that the event will sell out."
In addition to general admission tickets, a limited number of "Fashionably Late" passes are available for advance purchase online at $21 each. These passes guarantee seating in a reserved area, regardless of arrival time. "You won't have a specific 'spot' reserved to sit in, but you will have plenty of room to sit in the general area," Sperber says. Fashionably Late tickets must be purchased online, and are available on a first-come, first-served basis.
For further information about the Eat|See|Hear series or to see the rest of the summer 2016 lineup, please visit http://www.eatseehear.com/event-schedule/. Plan now to make Eat|See|Hear part of your summer!
About Eat|See|Hear
Voted "Best Outdoor Movie Series" by Los Angeles Magazine in 2014, the Eat|See|Hear outdoor movie, food truck and live music series brings an evening of fun to Los Angeles-area venues each summer. The fifth annual series is presented by SHOWTIME NETWORKS, featuring up-and-coming bands from the local music scene presented by LA Music Blog, the hottest food trucks and the largest inflatable movie screen on the west coast with the highest quality HD-projection featuring a viewing area that is 52-feet wide with professional sound. Eat|See|Hear promises an enjoyable movie-going experience for everyone, including dogs. Each event and is produced by LA-based Trailhead Marketing, Inc. For more information visit http://www.eatseehear.com/.