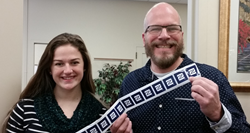 We are pleased to have Purple Deck Media join the Forum and contribute their innovation, creativity and drive to the NFC ecosystem.
Scotland, PA (PRWEB) April 28, 2016
NFC (Near Field Communication) is on its way to changing digital engagement forever. With its short-range wireless technology, it allows consumers around the world to make transactions, exchange digital content, and connect electronic devices simply and effortlessly with a touch. Purple Deck Media is enthused to announce that they have joined the NFC Forum. Recently, the company has adopted the N-Mark to further improve the recognition and acceptance of NFC's wireless interaction between consumer technology, mobile devices, personal computers, and NFC compatible tags. Purple Deck Media is unlike any other business with their use of NFC. They are a software company that is now managing NFC through the cloud. This allows them to easily work with, and change, their NFC tags. An automatic flow of analytical data is also collected and recorded with the reach of both the NFC tag and batch tags.
NFC technology complements today's contactless technologies. In a world of interactivity, the power of Purple Deck Media augments all marketing verticals and tools to achieve solutions in areas such as: data assembly and exchange, access control, health care, loyalty and coupons, transportation, payments, consumer knowledge, and so much more. NFC devices are able to operate in three modes: tag reader/writer, peer-to-peer, and card emulation. These modes allow consumers to bridge the virtual with the physical world, connect devices through physical proximity, and connect their devices to a common infrastructure.
The N-Mark was developed by the NFC Forum as a global symbol for NFC technology. It allows consumers to easily identify where their NFC-enabled devices can be used. The N-Mark can be used by anyone as long as the tag or device meets the applicable NFC Forum technical specifications, as described on the N-Mark Trademark License Agreement. By following each procedure, regulation, and recommendation stated throughout the agreement, one can maintain the integrity of the N-Mark. This will help reinforce consumer recognition and guarantee that the N-Mark increases value and acknowledgment among brands.
The NFC Forum is a non-profit industry association whose membership draws from all parts of the NFC ecosystem. Working within the framework of the NFC Forum, member organizations share development, application, and marketing expertise to develop the best possible solutions for advancing the use of Near Field Communication, enhancing the lives of consumers worldwide and advancing members' business objectives. Currently, the Forum's 140+ member companies are working to develop new specifications for a modular NFC device architecture, and procedures for interoperable data exchange and self-regulating device service distribution, device detection, and device capability.
Following the announcement of Purple Deck Media's membership into the NFC Forum, Executive Director of the NFC Forum Paula Hunter stated that, "We are pleased to have Purple Deck Media join the Forum and contribute their innovation, creativity and drive to the NFC ecosystem . We know they will be a good addition to the NFC Forum and I'm looking forward to spending time with the Purple Deck Media team at our upcoming members meeting this June in Dallas."
Purple Deck Media COO Nathan Neil also stated that, "We are honored as a company to take the next step in our NFC journey. We are very excited and privileged to have the opportunity to help educate consumers as to the benefits of NFC and awareness of the N-Mark."