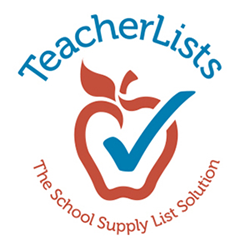 Launching this app means improved communication between schools and parents; better enabling parents to support their children and their children's classroom.
Wrentham, MA (PRWEB) May 03, 2016
TeacherLists and Blackboard unveil the School Supply Lists App today, just in time for back-to-school 2016. This custom tool powered by TeacherLists enables Blackboard customers to take full advantage of TeacherLists' best-in-class supply list functionality and portability. With the School Supply Lists App, Blackboard customers can now post their lists directly to the TeacherLists platform, and then have those lists available on their school's website, TeacherLists.com, and even directly on select retailers' websites. This means that for parents the days of hunting for school supply lists, and the difficulty of reading them on a smart phone are now a thing of the past.
Launched in 2012, the TeacherLists platform has grown into a powerful technology hub that converts lists from all schools and all teachers into a standardized, flexible format that is fundamentally transforming what was an inefficient and frustrating process for schools and parents. Lists from more than 775, 000 classrooms from more than 35,000 schools were live on the site in 2015 alone.
The new app -- which is now available for Blackboard Web Community Manager (formerly Blackboard Schoolwires) -- was developed this winter as part of the new partnership between TeacherLists and Blackboard. Beginning today, Blackboard customers have the ability to prepare and share their lists in plenty of time for back-to-school 2016-2017.
"TeacherLists is putting the power of technology behind the whole school supply list puzzle to make it simple and efficient. We're thrilled to work with Blackboard to advance this process for their customers," said Tim Sullivan, founder of TeacherLists. "Launching this app means improved communication between schools and parents; better enabling parents to support their children and their children's classroom."
"The School Supply Lists App is a great example of how Blackboard can extend our technology's capabilities through meaningful partnerships with companies like TeacherLists," said Chris Crawford, Vice President of K-12 Community Engagement at Blackboard. "We continue to aggressively deliver upon our mission to leverage technology to make it easier for district administrators, teachers, parents and the community to come together around student success.
To learn more about this new app, attend the Blackboard Partner Spotlight webinar, Managing School Supply Lists the Easy Way, with TeacherLists on Wednesday, May 11, 2:00-2:30pm ET.
About Blackboard Inc.
Blackboard is the world's leading education technology company. We challenge conventional thinking and advance new models of learning in order to reimagine education and make it more accessible, engaging and relevant to the modern day learner and the institutions that serve them. In partnership with our customers and partners in higher education and K-12 as well as corporations and government agencies around the world, our mission is to help every learner achieve their full potential by inspiring a passion for lifelong learning. For more information about Blackboard, follow us on Twitter @Blackboard.
About TeacherLists
TeacherLists is the smarter way to manage, find and share school supply lists for teachers and parents, free-of-charge. After uploading a school supply list once, educators can easily update and link the list to a school or personal website. TeacherLists provides parents the freedom of accessing and finding the most updated school supply list, twenty four-seven. For more information about TeacherLists, visit http://www.teacherlists.com.