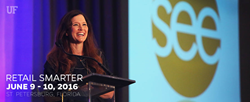 It feels good to give back by helping sponsor this important and impactful conference. -Jim Lewis, Founder & CEO of Enhanced Retail Solutions
New York, NY (PRWEB) May 03, 2016
Enhanced Retail Solutions (ERS), a leading provider of Software-as-a-Service (SaaS) retail analytic and demand planning solutions to suppliers, licensors and their retail trading partners, today announced it will be a sponsor at the 2016 Retail Smarter Conference scheduled for Thursday, June 9th and Friday, June 10th at The Vinoy Renaissance St. Petersburg Resort & Golf Club in Florida.
Each year the Retail Center offers an executive continuing education conference specifically designed for retailers. A group of senior retail executives from leading firms are assembled to focus on topics of strategic importance to retailers. The executives candidly share information and new ideas that are working to keep their organizations ahead of their competition.
Below are the featured presenters at the 2016 Retail Smarter Conference:

Stu Crum, Chairman & President of Bridgestone Retail Operations
Don Germano, President of Follett Higher Education Group
Kristin Keen, Founder & President of Rethreaded
Steve Knopik, CEO of Beall's Inc.
Karina Pimentel, Founder of Comercio Competitivo
Rebecca Sinclair, Sr. VP & Chief Human Resources Officer of Southeastern Grocers
Jeffrey Stein, Client Advisor of Geoscape
Ann Marie Stephen, CEO & Founder of KWOLIA
"As an alum of this program, I am grateful for the education I had and the help I received in starting my career in Retail," says Jim Lewis, Founder and CEO, Enhanced Retail Solutions. "It feels good to give back by helping sponsor this important and impactful conference."
About Enhanced Retail Solutions LLC:
Enhanced Retail Solutions is a software and consulting firm specializing in retail analysis and demand planning for manufacturers, licensors and their retail partners. ERS' state of the art software tools and consulting deliver critical data quickly, easily and cost effectively, adding over one hundred million dollars to their clients' bottom line. ERS' broad customer base includes industry leaders in the electronics, consumer products, apparel, footwear, home textile, toy, home décor, home improvement, housewares, jewelry and food industries. Headquartered in New York City, Enhanced Retail Solutions has offices in the Dallas, TX and development in the US, Cork, Ireland and Delhi, India. For more information, visit http://www.EnhancedRetailSolutions.com.
About The Retail Center:
The major objectives of the Miller Center for Retailing Education and Research are to stimulate student interest in pursuing careers in retailing, prepare students for entry level management positions, provide continuing education opportunities for individuals currently in retailing, improve communications between retailers and academics so that academics are more familiar with problems facing retailers, and so that retailers can take advantage of new perspectives and insights arising in the academic community, and undertake research on retailing issues, opportunities, and problems. For more information, visit http://warrington.ufl.edu/centers/retailcenter/executive/retailsmarter/2016/.