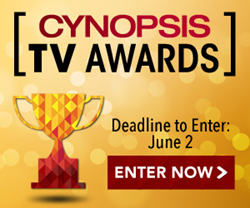 New York. NY (PRWEB) April 26, 2016
Cynopsis Media announced the launch of the TV Awards, saluting excellence in national TV programming, from writing and directing to casting and hosting, recognizing outstanding achievement across teams, platforms, and overall merit. The worldwide competition is accepting entries through June 2; winners will be announced at an awards event on October 25, 2016 in New York City.
"Winning a Cynopsis TV Award is a symbol of acknowledgement and appreciation from your peers – and from the leading B2B digital publication in our industry – that your work has risen to the top in entertaining and enriching a broad audience," said Roberta Caploe, Cynopsis Publisher.
Presented by Cynopsis, the industry's most-read and trusted publication, the TV Awards are open to all individuals and teams worldwide including: production companies/studios, producers, networks, composers, lyricists, animators, licensing companies, marketing companies, pr firms, ad agencies, creative services teams, developers, interactive advertising/media, online film/video, and social content. Vendors are also eligible to compete on behalf of a client. The program is open to national and international entrants. The eligibility period is from May 1 2015, and May 31, 2016. (Enter online now)
The Awards encompass every aspect of the industry, including linear TV, digital content, marketing, and more, with more than 60 categories to choose from, including:

Best Reality Series
Best Writing
Best Casting
Best Host/Judge
Network Diversity
Best Broadcast Network
Best TV Group
Best Team of the Year
Best Marketing Campaign
Best OTT Service
Best Social Media Campaign
Best use of Companion Video
Best Production Company
and more!
To see the complete list of categories, go to http://www.cynopsistvawards.com.
Winners and honorable mentions will be saluted during the TV Awards ceremony on October 25, 2016 in NYC and profiled in a special edition of Cynopsis. For entry questions, contact Marketing Manager Sarah Martinez at sarah(at)cynopsis(dot)com. For advertising or sponsorship information, contact VP of Sales & Marketing Mike Farina at mike(at)cynopsis(dot)com.
About Cynopsis Media:
Cynopsis Media is what the TV industry reads first every day. The Cynopsis family of products includes the media industry's most-read daily, Cynopsis, plus sister dailies Cynopsis Digital and Cynopsis Sports, the Cynopsis Jobs board and special reports. Serving TV, agency and brand professionals, Cynopsis Media produces conferences, webinars, and awards programs that are second to none. Find out more at cynopsis.com.
##