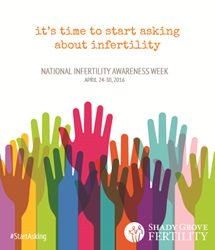 With 1 in 8 couples experiencing infertility, it is important for the community to come together and present a unified front, spreading awareness and letting couples know when it's time to see a fertility specialist.
Rockville, MD (PRWEB) April 27, 2016
Shady Grove Fertility, the nation's largest fertility practice, is proud to support and promote National Infertility Awareness Week (NIAW), a yearly initiative founded by RESOLVE: The National Infertility Association to encourage people to act as their own infertility advocates and to educate legislators and the public about how infertility impacts one in eight couples within our community.
Since establishing a partnership with RESOLVE, Shady Grove Fertility has helped to raise not only awareness about infertility, but more than $20,000 through annual events that advance RESOLVE's programming, such as support groups, educational content, and awareness initiatives to ensure that family building options are available to everyone.
In order to promote this year's NIAW theme, Start Asking, Shady Grove Fertility will launch an integrated social media campaign and publish educational blogs and emails about overcoming infertility. Shady Grove Fertility will also host a live event on the popular fertility app, Glow, featuring Shady Grove Fertility reproductive endocrinologist, Shruti Malik M.D., leading a live Q&A session on Wednesday, April 27 from 4 p.m. to 6 p.m., as well as a Facebook Live Q&A featuring a Shady Grove Fertility reproductive endocrinologist on Friday, April 29 from 12 p.m. to 1 p.m.
NIAW is a significantly vital event, but it is only one of the many ways throughout the year in which Shady Grove Fertility spreads awareness and supports the infertility community. On May 11, 2016, Shady Grove Fertility physicians and staff will let their voices be heard at Advocacy Day, a RESOLVE event in which the community speaks with members of Congress to promote increased access to family building options and financial relief.
With one in eight couples experiencing infertility, it is important for the community to come together and present a unified front. It's also important that couples know when it's time to see a fertility specialist, given the importance of early intervention and how predominantly maternal age affects pregnancy outcomes. Shady Grove Fertility physicians typically recommend for a couple in which the woman is younger than 35, has normal cycles, and no risk factors for infertility, a year of trying to get pregnant without success is enough to warrant a fertility evaluation. However, there are most definitely cases in which the 1-year standard isn't the best course of action. Generally, when the woman is 35-40, a fertility consultation should be considered after 6 months of unprotected intercourse, or after 3 months for women who are older than 40.
Also, there are some factors that can have such a definite impact on a woman's fertility that a baseline fertility workup is warranted regardless of age. Such factors include:

history of irregular menstrual periods or absence of periods
previous abdominal or gynecological surgery, pelvic inflammatory disease (PID), or other sexually transmitted infection
known structural abnormalities of the uterus or other reproductive organs
endocrine (hormonal) disorders such as thyroid disease
pituitary tumors or hyperprolactinemia
About Shady Grove Fertility
Shady Grove Fertility is a leading fertility and IVF center of excellence offering patients individualized care, innovative financial options, and pregnancy rates among the highest of all national centers. Since 1991, more than 40,000 babies have been born to patients from all 50 states and over 35 countries around the world. Shady Grove Fertility physicians actively train residents and reproductive endocrine fellows and invest in continuous clinical research and education to advance the field of reproductive medicine through numerous academic appointments and partnerships with Georgetown Medical School, Walter Reed, and the National Institutes of Health. Today, 34 reproductive endocrinologists, urologists, Ph.D. scientists, geneticists, and more than 600 highly specialized Shady Grove Fertility staff care for patients in 18 full-service offices, and five satellite sites throughout Pennsylvania, Maryland, Virginia, and Washington, D.C. For more information, call 1-888-761-1967 or visit ShadyGroveFertility.com.