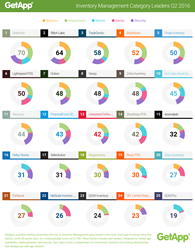 Cloud-based inventory management software is taking much of the hassle out of managing stock and automating ordering processes in a way that businesses could only have dreamed about before
Barcelona, Spain (PRWEB) April 27, 2016
GetApp has announced its ranking of the top 25 inventory management software for Q2 2016. The big winner in the ranking was Orderhive, which soared from seventh in last quarter's ranking to hit first place this quarter. Stitch Labs came in at a close second, while TradeGecko was third.
GetApp's ranking of category leaders for inventory management software is designed to help small businesses get a reliable overview of the top apps for managing stock.
The independent ranking is compiled by looking at data about inventory management software in five key areas: user reviews (the number of reviews and user ratings on GetApp), security, number of integrations with other business tools, mobile application availability and app store ratings, and media presence. A score out of 20 is awarded in each of these five areas, giving each application in a total score out of 100.
"Cloud-based inventory management software is taking much of the hassle out of managing stock and automating ordering processes in a way that businesses could only have dreamed about before. Orderhive came out on top this quarter due largely to the wealth of software integrations it offers, as well as the reputation of its mobile apps," says Suzie Blaszkiewicz, project manager and researcher at GetApp.
Click through to find out the top 25 inventory management solutions according to GetApp's ranking.
More about GetApp: GetApp, a Gartner company, is the leading premium business app discovery platform on the web. Headquartered in Barcelona (Spain), GetApp serves as a platform for user-generated and editorial reviews of software and apps for businesses.
###