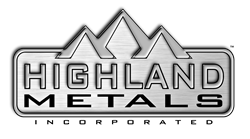 Simply Great Wire!
Franklin, IN (PRWEB) April 27, 2016
Highland Metals, Inc. announced today the worldwide release of their new aesthetic wire. The new arch wire features tooth-colored, epoxy coating and is available in Highland Metals' Super Elastic NiTi and regular stainless steel archwires.
Highland Metals new cosmetic orthodontic wires go through a proprietary process to coat the wires in a tooth-colored, epoxy solution, which creates the most durable tooth-colored finish in the industry. The epoxy coating adds .002" in thickness to the wire dimensions, e.g., .016" coated has a .014" base wire with .014" applied forces.
The tooth-colored wires are available in multipacks of round or rectangular natural arch forms.
"In celebration of our product launch into cosmetic orthodontic archwires, we have up to 25% off special volume discounts that can be applied to orders based on quantity purchased," said Heidi Helms, Highland Metals Marketing Manager.
Highland Metals continues to develop great wires that can be offered at a great price.
About Highland Metals Inc.
For over 28 years, Highland Metals has been providing orthodontists with high-quality wires at great prices. All our products are proudly manufactured in the U.S.A.
Highland Metals is a privately held company headquartered in Franklin, IN. For more information visit http://www.highlandmetals.com
Highland Metals, Highland, and the Highland logo are registered trademarks.
Heidi Helms, Marketing Manager
Highland Metals
800-526-1026 U.S.A. and Canada
+1 317-346-6655 International