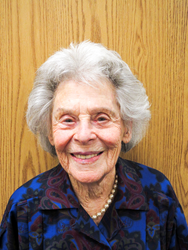 Syosset, NY (PRWEB) April 27, 2016
Sands Point resident Joan Saltzman, widely recognized advocate, activist and philanthropist, is deeply involved in supporting ERASE Racism, a civil rights non-profit that advocates for racial equity on Long Island. As a long-time member of its planning committee, she is helping to organize ERASE Racism's Annual Benefit Celebration, which will take place on June 8th at the Garden City Hotel.
In 1960, Mrs. Saltzman helped found the North Shore Child & Family Guidance Association, serving as a board member and as its president. In 1972, she co-founded Community Advocates, a non-profit organization that has been a major catalyst for social and racial justice, affordable housing and housing for homeless individuals and families on Long Island. She served as president of Community Advocates for 14 years and still serves on its board and executive committee. She was a founder of the Long Island Community Foundation in 1978, serving on its board and grants committee for more than 30 years, and also a founder of the Long Island Fund for Women and Girls (recently renamed the Long Island Women's Fund).
Through the vision and generosity of Mrs. Saltzman and her late husband, Ambassador Arnold A. Saltzman, a new facility was built on the Hofstra University campus in 1991 to house child development and outreach programs for families and children from Hempstead and the surrounding communities. In recognition of their support of Hofstra and their commitment to human services, the University named the facility the Joan and Arnold Saltzman Community Services Center. Mrs. Saltzman is chair of the Center's board.
Since its inception in 2001, Mrs. Saltzman has been actively committed to ERASE Racism, serving on its College of Advisors and as a member of its Annual Benefit Committee. The 2016 Benefit will honor Dr. William H. Johnson, Rockville Centre Superintendent of Schools, known nationally as an innovative expert in closing the achievement gap for poor and minority students, and Kevyn D. Orr, Partner in Charge at international law firm, Jones Day, for his groundbreaking success in bringing the historic, primarily African American city of Detroit back from the edge of financial collapse. ERASE Racism will also be presenting its Leadership Award to the National Center for Suburban Studies at Hofstra University for spotlighting the effect of racial disparities on Long Island.
For more information and to buy tickets, please visit http://www.eraseracismny.org or call 516-921-4863.
About ERASE Racism: ERASE Racism is a regional organization that leads public policy advocacy campaigns and related programmatic initiatives to promote racial equity in areas such as housing, public school education and healthcare. It engages in a variety of research, education and consulting activities to identify and address institutional and structural racism, primarily on Long Island.