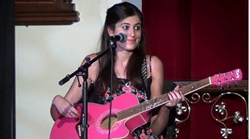 Many of us have incredible strengths that should be recognized.
Pittsfield MA (PRWEB) April 27, 2016
During the month of April, thousands of people across the US attend concerts, festivals, and other special events to help shine a light on autism during Autism Awareness Month.
The Spectrum House Band in Pittsfield, Massachusetts was in full swing at a special April performance saluting Autism Awareness Month. Along with other musicians, the band featured guitarist Danielle Davis, an aspiring musician from New York.
"Although autism awareness is important, I believe autism acceptance is even more important, because everyone deserves to be accepted," commented Danielle. Diagnosed with Asperger's at age 15, Danielle doesn't want her diagnosis to define her. "It's important for people to get to know us as individuals," she continued. "Many of us were bullied growing up and it was a struggle. We may think in a different way, but that does not make us less worthy as a friend."
Danielle, 21 is a student at The College Internship Program (CIP) a postsecondary program for young adults age 18-26 with Autism, Asperger's and other Learning Differences, operating six programs across the country. During Autism Awareness Month, students at CIP Centers volunteered at autism related events.
Students at CIP's Brevard Center in Melbourne, Florida took part in a variety of activities including the Treasure Coast Walk Now For Autism Speaks where CIP had the top fundraising team, raising over $4,700. "It all goes to support a good cause to provide a voice and raise awareness for those who may not be able to express their needs," commented CIP student Dan Perkins who raised $3,300.00 thanks to family and friends.
Additionally, Brevard students Megan MacSorley and Dan Perkins spread their message about autism acceptance at the Melbourne Regional Chamber of Commerce. Students also took part in a Family Festival courtesy of Brevard PALS, an organization that supports families that have been touched by autism.
Students attending CIP Berkeley entertained children and helped transform the gym at We Rock The Spectrum, an all inclusive gym for children with autism, into an information fair showcasing resources for children with special needs. In Long Beach, California, CIP students volunteered at a Chalk Art Festival hosted by the City of Covina and Autism Highway. Students had fun working together to create chalk art masterpieces.
With the CDC reporting that autism now affects 1 in 45 people, the need for services for young adults is skyrocketing. Many young adults on the spectrum need comprehensive support as they transition to college, the workplace and independence.
"Each year during Autism Awareness Month in April, our CIP Centers have a friendly competition to see how much students and staff can give back to the community," commented Dan McManmon, President of CIP. "Everyone gets involved in the planning and coordinating, and we're able to make a positive impact on our local communities. It's a win-win for everyone."
Danielle plans to continue to spread her message of acceptance for people on the autism spectrum and has high hopes for her future. "Thanks to the support I received at CIP, I am on track to earn a Certificate in Early Childhood Education in June," she commented. I'm hoping to become an assistant preschool teacher with my degree while still pursuing my passion for music."
"Many of us have incredible strengths that should be recognized," she said. "I like to focus on the positives, not the negatives for everyone in the autism community."
For more information about CIP and their year round and summer programs, visit http://www.cipworldwide.org