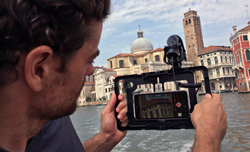 We wanted to make something that anyone and everyone could use, and we're thrilled that supporters from around the globe have chosen to support our product
NEW YORK, NY (PRWEB) May 24, 2016
Padcaster is pleased to announce they have raised over $68,000 in a recent Kickstarter campaign, surpassing their original Kickstarter goal of $25,000. Padcaster VERSE offers consumers a multi-media case built to fit any smartphone or small tablet with the flexibility to adapt to any device's upgrades over the years. The successful funding of this project will enable Padcaster to have the VERSE available for purchase later this year online at http://www.padcaster.com.
Padcaster VERSE is a rugged polycarbonate case that shares the same core design elements as the original flagship Padcaster product line. With twelve ¼-20 threads and five integrated cold shoe slots around its frame, Padcaster VERSE provides a total of seventeen easy, stable mounting points for media accessories including lights and microphones, in addition to a standard mount for tripods, monopods, and other stabilization grips. The center of the case houses a universal bracket that is compatible with any phone or tablet – Apple or Android – up to 5.31 inches in width -- the size of an iPad mini.
"We were asked over and over again about making a Padcaster for iPhone, and we wanted to take it a step further to build a case that not only fits any iPhone model, but all video-capable smartphones and small tablets," said Josh Apter, Founder and CEO of Padcaster. "The funds we have raised in the last month enable us to make all of the final updates to our prototype so we can put the best product on the market."
Created to transform an iPad into an all-in-one mobile production studio, Padcaster's unique design adds stabilization, as well as audio and optical upgrades that enable iPad users to shoot, edit, stream and share professional quality video content. This patented design has been successfully translated to the new Padcaster VERSE, to fit any phone or small tablet.
"We are grateful to everyone who backed our campaign," continued Apter. "We wanted to make something that anyone and everyone could use, and we're thrilled that supporters from around the globe have chosen to support our product."
The Padcaster VERSE Kickstarter campaign was open to backers for thirty days, Tuesday, April 19 - Thursday, May 19, 2016. Due to the incredible support of 468 backers who raised $68,439, the Padcaster VERSE is expected to be available to consumers later this year.
A media kit including images of the Padcaster VERSE may be viewed and downloaded here, and the fully funded Kickstarter campaign may be viewed at http://www.kickstarter.com/projects/thepadcaster/padcaster-verse.
About Padcaster
Featured in Apple's "Your Verse" international advertising campaign for the original iPad Air, as well as the iPad Air 2 "Change" campaign, and Visa's "Visa Checkout" campaign, Padcaster is a patented, rugged multifunctional iPad case that transforms the iPad into an all-in-one mobile production studio. The Padcaster enables consumers to shoot, edit and upload video on the fly - or stream live right from the iPad. More than an innovative way to mount an iPad to a tripod, Padcaster transforms the iPad into an all-in-one production tool that enables a new category of convenient and cost-effective professional quality video documentation and production.
The current Padcaster line, which provides users with a sleek, portable, professional mobile studio for iPad Pro 9.7", iPad mini 1-4, iPad Air & Air 2, and legacy iPad generations 2 – 4, retails for $399. Additional accessories are available to customize any Padcaster to specific needs and requirements. All of Padcaster's unique, customizable frames and accessories, as well as the recently launched Padcaster Cage System ($139) can be purchased online at Padcaster.com. Padcaster for iPad mini generations 1 – 3 can also be purchased online at Apple.com.
The Padcaster is a trademark of The Padcaster LLC. All other trademarks, registered trademarks and products mentioned herein belong to their respective owners.
# # #