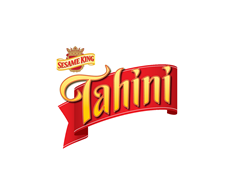 Methuen, MA (PRWEB) April 27, 2016
With peanut allergies affecting more than 3.3 million Americans, peanut allergies pose a significant health concern for both adults and children. Peanut allergy is now one of the "Big 8" food allergies in the United States and has become a major concern within school systems across America. According to the Centers for Disease Control and Prevention, food allergies have increased 18% among children under the age of 18 years old.
As with people who suffer from Celiac Disease, finding safe and great tasting foods for the family is no easy task. But now, finding a food that is Peanut Free and Tree Nut Free and even Gluten Free has never been easier.
Introducing the new Sesame King Tahini. Sesame King Tahini paste comes in seven delicious flavors that include Roasted, Light Roasted, Olive Oil, Garlic, Cajun, Honey and Chocolate. Each flavor is rich in proteins and vitamins, made with no additives or preservatives, peanut free, tree nut free, Trans fat free, gluten free and Kosher Certified. Both the Roasted and Light Roasted Tahini flavors are Non-GMO verified.
"As a father of two children, knows how important it is for children to be eating foods that are not only healthy, but also safe and taste great," said Emile Maroun, Jr., General Manager of Sunshine International Foods. "Our mission has always been to make great tasting Tahini, but also provide consumers with a product that makes it easy to live a healthier lifestyle."
Sesame King Tahini pastes are made from 100% pure ground sesame seeds. The sesame seeds are shipped directly from the farms to their facility and are sifted, hulled, roasted and ground to perfection. Each Sesame King Tahini is all-natural, with a subtle, delightful aroma, rich with texture and delicious taste. Sesame King's parent company, Sunshine International Foods mechanically hulls its sesame seeds, meaning no chemicals or hulling agents are used during the manufacturing process.
Sesame King Tahini pastes provide consumers with a powerful nutritional food choice that packs a kaleidoscope of superior flavors and the following healthier inclusions:

Tahini is richer in protein than milk, yogurt, almonds, cashews, hazelnuts, walnuts, soya, sunflower, wheat germ and pecan nuts.
Tahini contains natural lecithin which reduces blood fat levels and provides protection from environmental pollutants such as nicotine.
Tahini provides substantial amounts of many vitamins including Vitamin E, which slows the aging of body cells and helps maintain proper focusing of the eyes.
Tahini is also one of the best sources of Vitamin T (very few foods are). Vitamin T improves memory and concentration in combination with Phosphorous also present in Tahini, providing a potent brain and nerve food.
Sesame King Tahini pastes come in 16 oz. plastic jars and are available in the following seven delicious flavors:
Sesame King Roasted Tahini – This tahini flavor can be used for a variety of savory and sweet recipes. It's the perfect complement for hummus, sauces, dressings and can really enhance the taste of any type of seafood, chicken or lamb dish. Eat straight from the jar for a healthy alternative to peanut butter.
Sesame King Light Roast Tahini – This tahini flavor is a fan favorite. Just the right amount of roasted flavor that is perfect for mixed green salads, cold noodle salads, as a marinade or as a mix for coleslaw.
Sesame King Garlic Tahini – This tahini flavor is the perfect complement to an array of dishes and takes fish, chicken or lamb into the next stratosphere. We guarantee that our Garlic Tahini will add an authentic Middle Eastern essence to your favorite recipes.
Sesame King Olive Oil Tahini – This tahini flavor is perfect for those unique salads and sauces and is a true enhancer for roasted potatoes and vegetables.
Sesame King Cajun Tahini – This tahini flavor packs a powerful punch of pungent flavor and aroma that takes seafood, chicken or lamb to the next level. Try it as a topping or dip and see where its lands on your dipping meter.
Sesame King Honey Tahini – This tahini flavor delivers an irresistible flavor that is sure to tame the biggest sweet tooth and is the perfect healthy alternative to halvah.
Sesame King Chocolate Tahini – This tahini flavor is so versatile and delicious it can be used as a dip, as a spread on toast, drizzle it on your favorite vegetables, or eat straight from the jar.
Sesame King Tahini scored an impressive 94 points out of 100 overall by the food industry's Phil Lempert's Supermarket Guru. Also, Sesame King Tahini recently entered into an agreement with SourceOne Sales & Marketing of New Hyde Park, NY to introduce its product line to retailers on a national level.
About Us:
Founded in 1997, Sunshine International Foods, Inc. is a family owned and operated business that produces the highest quality Tahini pastes made in the United States. Sunshine International Foods, Inc. puts great importance on food safety and providing their customers with outstanding customer service. Sunshine International Foods, Inc. produces a branded line of 100% pure Sesame King Tahini pastes that come in seven delicious flavors including Light Roast, Roasted, Olive Oil, Honey, Garlic, Cajun and Chocolate. Each Tahini flavor is all natural, rich in proteins and vitamins, no preservatives, peanut free, Trans fat free, gluten free, Kosher Certified, (Non-GMO/Roasted & Light Roasted) and is the only pasteurized Tahini available in today's market. Sesame King Tahini pastes come in 16 oz. plastic jars and are available nationwide for chain supermarkets, independent supermarkets, specialty food stores and club stores. Sunshine International Foods, Inc. also offers 32 oz. plastic jars, 40 lb. pails, 450 lb. drums for foodservice operators and manufacturing use. For more information about Sunshine International Foods, Inc. call 978-837-3209.
Sesame King Tahini is also on http://www.facebook.com/SesameKing and http://twitter.com/Sesame_King