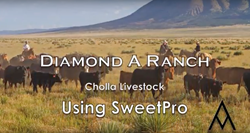 We produce a natural calf. And that's where SweetPro comes in. It's a natural feed.
Seligman, Arizona (PRWEB) May 13, 2016
Diamond A Ranch is Arizona's largest cattle ranch, with 7 camps scattered over 1,200 square miles. Cholla Livestock owns Diamond A Ranch, and has cattle operations in 5 states. Their Natural Beef Program now relies on SweetPro supplement blocks to keep their cattle and horses healthy through all kinds of grazing conditions.
After disappointing results from other products, Cholla Livestock General Manager Gary Wilson tried SweetPro products, liked the results and has chosen to stay with SweetPro. Wilson said "SweetPro® came along, we tried it, gave it a shot. The cows did much better, the calves did better, the breedback was better and the delivery system made sense to us."
In a video interview with Bob Thornberg, President of SweetPro, Wilson said "I feel like it decreases range grass consumption by at least 20%. We've extended our grazing period by using SweetPro in these drought situations." Wilson added "Our cows are in great shape. And the calves are happy. They're doing good. They're growing."
Harvey Dietrich is the owner of Cholla Livestock, and has been in the beef business for over 40 years. "You can't play catch up with a cow. You can't play catch up in this business. It's very difficult. Starting from behind is not a good place to be so we try to get out in front and we try to project the best we can, what we need to do in the way of nutrition." Dietrich said.
Diamond A Ranch runs thousands of head of cattle, keeps 150 horses in rotation for the ranch hands, and now relies completely on just grass plus SweetPro. Dietrich summed it up by saying "It's always about the bottom line. Bottom line will be there if you take care of that animal and do it right. That's the main thing."