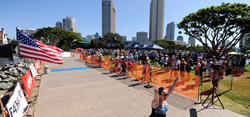 Carlsbad, CA (PRWEB) April 27, 2016
The Spring Sprint Triathlon, Duathlon and Aquabike is the second largest multi sport sprint event in San Diego. Taking place May 1, the event this year features a swim around Mission Bay and a flat bike and run course. Participation ranges from experienced triathletes and duathletes to first time runners. Local raw cacao company MitoXcell will have a featured booth at the event on Saturday and Sunday at South Shores Park in Mission Bay.
MitoXcell is clinically proven formula composed of five all natural ingredients: raw cacao, echinacea, trans resveratrol, alpha lipoic acid and l-carnitine. These ingredients work within the cells of the body, specifically within the mitochondria, and enhances performance. The product is used to increase the body's output of natural energy, improve endurance and allows for more efficient metabolic performance.
Since the product is geared toward athletic performance, being featured at the Spring Sprint is a beneficial opportunity for the local growing company. The race will feature a beer garden with snacks, Aquabike, kids festivities, an upgraded expo with food and more.
Pre race check in is on Friday April 29 starting at 3pm.
Race day events are as follows:
Sunday, May 1, 2016 - Race Day - South Shores Park
5:00 a.m. Parking Lot Opens
5:45 a.m. Transition Area Opens/ Late Packet Pick Up Opens
6:40 a.m. Transition Area Closes/ Late Packet Pick Up Closes
6:45 a.m. Duathlon Begins
6:50 a.m. Triathlon Waves Begin
9:45 a.m. Awards Ceremony
10:30 a.m. Transition Area Closes. All bikes must be removed.