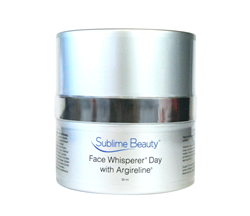 Face Whisperer® Day Cream with Argireline is 25% Off this week on Amazon. An even better deal is to be found on SublimeBeautyShop.com - buy 1 and get 1 free for a limited time.
St. Petersburg, FL (PRWEB) April 27, 2016
The Face Whisperer® Day Cream, nicknamed "the Dream Cream", performs and excels for skin - and it is on sale this week only!
"We designed this cream to focus on three main areas," says Kathy Heshelow, founder of Sublime Beauty®. These three areas are:
1) relaxing fine lines and wrinkles naturally with the peptide compound called Argireline (known as the natural botox);
2) boosting collagen, which diminishes with age and is behind thinning, sagging and wrinkling skin; and
3) beautiful hydrating with botanicals.
The cream is semi-lucid with no scent, goes on easily and works even for sensitive skin.
"Many of our clients use it both day and night for optimal results," says Heshelow. "Applying Argireline twice daily is more effective for relaxing wrinkles."
Face Whisperer® Day Cream is 25% Off this week on Amazon. Use code 25FWD33X at checkout. An even better deal is to be found on the Sublime Beauty webstore. Buy 2 and get 1 free - no code necessary.
ABOUT: Sublime Beauty® is a French-inspired quality skincare company that focuses on products to Age Well. Ingredients help to boost collagen, hydrate, relax wrinkles and improve skin. A niche includes healthy Skin Brushes. The company webstore offers free standard shipping and a VIP Club. Sign up for Secret Sales on the site. Products also available on Amazon. Kathy Heshelow founded the firm along with Sublime Naturals and ZEN BOX.