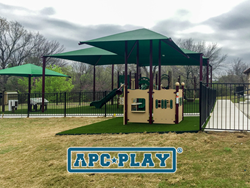 McKinney, Texas (PRWEB) April 27, 2016
APCPLAY playground equipment has been installed at the recently completed Kiddie Academy of Stonebridge McKinney, Texas, facility.
Kiddie Academy is an established educational child care provider with locations across the nation. Founded in 1981, the service has been delivering expertise in child development for over 30 years. The Kiddie Academy's vision is "a community that shapes and inspires children for the future." Like the many successful locations before it, the new Kiddie Academy of Stonebridge McKinney location employs the company's trademarked "Life Essentials" educational philosophy to carry out this vision. The philosophy consists of four pillars: Developmentally Appropriate Curriculum, Health and Fitness, Technology Education, and Character Education.
The new APCPLAY playground equipment fits right in with the center's commitment to providing ample play time outdoors to ensure excellent physical health and brain development. The Kiddie Academy of Stonebridge invested in three playground structures from APCPLAY, a modified Riviera, Sunnyville, and Jack-in-the-Box to accommodate children of all ages that the child care center serves.
The Riviera is best-suited for ages 5-12, and is recommended for up to 26 children at a time. Because APCPLAY is able to customize any structure to fit individual clients' needs, the owners of the Academy decided to modify their Riviera structure by taking off the roof and one slide to tailor the equipment to their space. The rest of the features include lots of climbing exercises, including the large, round Pent Climber structure that is sure to challenge energetic kids.
The Sunnyville structure from APCPLAY is designed for ages 2-5, with a maximum capacity of 10 children. This structure features educational activities to stimulate the developing minds of this young age group. Activities include a Maze Panel, Bubble Panel, Driving Panel, and a Bubble Wall Climber.
For the youngest age group, the Jack-In-The-Box accommodates up to 10 children ages 0-5 years old. The playhouse style of this structure lends itself to imaginative play. It features a Kitchen Panel, Storefront Panel, and realistic Window Panels. There are also two Talk Tubes that kids can use to communicate from either side of the playground.
In addition to the playground structures, three Independent Music Play components were also installed at the playground. A Stand Alone Upright Piano, Glockenspiel, and Mini Marimba come together to create an inclusive, ground-level area full of fun musical activities.
The Kiddie Academy chose the "Natural" color option, consisting of tan, forest green, and maroon, for all of their playground equipment. To shade the playground areas from harmful UV rays, all play structures are covered with APCPLAY shades that match all of the equipment. These shades are 80% water-resistant and block 97% of UV rays. They're also face, mildew, and rot resistant for unparalleled lifespan. Finally, turf safety surfacing finished off the playground installation.
About APCPLAY
APCPLAY is based in McKinney, a suburb north of Dallas, Texas, and is a nationwide provider and installer of commercial playground equipment. They serve schools, churches, daycare facilities, homeowner associations, municipalities, and apartment communities with high-quality, long-lasting commercial play structures, site furnishings, athletic equipment, and pre-fab shades and shelters, along with turn-key installation.
APCPLAY has over 25 years of experience offering planning services, custom design, and an extensive array of park and playground products. They're committed to top-notch customer service and complete purchase satisfaction.
For general information on APCPLAY, please call 1-888-401-6446 or visit http://www.apcplay.com.
For media inquires, contact Marc Parker – Vice President of Marketing and Operations – sm(at)apcplay(dot)com.
Mailing Address: 225 E. Virginia Street, Suite 2, McKinney, Texas 75069.