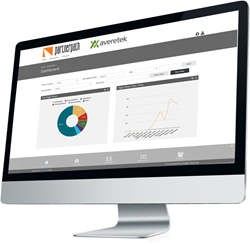 Marketing automation and PRM software offered in a single package can solve many problems in the channel, and this integration is a win for everybody.
Seattle / Boston / Menlo Park (PRWEB) April 27, 2016
Today Averetek, a global leader in channel marketing automation software and consulting services, and PartnerPath, a world-class partnering development software company, announced a new integration partnership. This joint platform combines the best of channel marketing automation and partner relationship management (PRM) software in one portal, empowering channel marketers and channel sales managers to manage demand generation activity, partner engagement, sales activity, and partner relationships in one place.
"In addition to creating great software, PartnerPath has a long track record of publishing sound research and business intelligence in the channel marketing space," said Peter Thomas, CEO of Averetek. "We're confident this integration will provide partners with a seamless experience for all their sales and marketing collateral, incentives, joint marketing funds, and promotions."
This PRM and channel marketing automation platform gives PartnerPath and Averetek customers one place to foster partner collaboration and accelerate sales. The tool offers:

A way to prove partner marketing ROI by tying co-marketing activities and spend to opportunities registered and closed.
A unified system to track and communicate market development fund accrual, claims, reimbursements, and ROI.
Channel marketing automation tools like partner-customizable marketing campaigns, content syndication, and opt-in communications to partners.
"We are very excited to announce our robust partnership with Averetek," said Diane Krakora, CEO of PartnerPath. "No other solution offers a similar breadth of functionality with an intuitive, easy-to-use interface, leading to a fantastic experience for partners."
PartnerPath and Averetek customers are already talking about the integration. "I'm excited about the combination of these two powerful platforms," said Meaghan Sullivan, Vice President of Global Channel Marketing at SAP. "Marketing automation and PRM software offered in a single package can solve many problems in the channel, and this integration is a win for everybody."
About Averetek
Averetek is the largest provider of channel marketing automation software in the world with 239,000 users from 59,000 channel partner organizations in 195 countries. Averetek is the partner-led demand generation engine for leading brands like SAP, Google, Citrix, Splunk, FireEye, and Avalara. Averetek's clients use the platform to enable their channel partners to plan and execute a variety of marketing campaign tactics through simple workflows that generate pipeline and revenue.
About PartnerPath
PartnerPath is a partnering development software company based in Silicon Valley, California, wholly dedicated to helping companies elevate the impact of partnering at any stage of their partner and channel development cycle. They achieve this by effectively designing, implementing and automating channel and alliance models through a best-in-class partner portal and partner relationship management automation system (PRM). Their PRM is complemented by a rich portfolio of services ranging from channel models and program development plans to partnering operations and program execution.