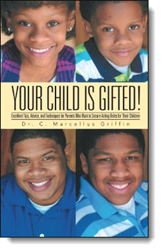 I have also witnessed students with limitless potential, who simply needed to have a parent, teacher or mentor spend time with them to bring out their innate talents and gifts.
NATIONWIDE (PRWEB) May 03, 2016
Having secured numerous television and film acting roles for children, Southern California resident Dr. Chappelle M. Griffin 'wrote the book' to help parents by sharing his array of knowledge on the subject. The informative book is titled "YOUR CHILD IS GIFTED: Excellent Tips, Advice and Techniques for Parents Who Want to Secure Acting Roles for Their Children."
The author, teacher and school administrator, is concerned that public schools fail to identify artistically-gifted students—due, in part—to the lack of valid, research-based methods to identify potential artistic talent. He stated, "Consequently, many artistically-gifted students are not identified and supported during their K-12 education." He suggests that parents must do that work.
Dr. Griffin's intention in writing the book was to inspire parents to invest time and energy into their children's interests and responsibly channel their talent development so the young people may grow into confident, well-adjusted adults who feel they have gifts to offer to the world. "Your Child Is Gifted" encompasses eight crucial "insider tips" and much more information for parents that many performers pay thousands of dollars to learn. Among the tips the author discusses in "Your Child is Gifted, are the following:
1. Learn and understand fundamental entertainment terms such as auditions, monologues, etc.
2. Don't allow children to be overly active (running, playing) prior to being called into the audition room.
3. Encourage young performers to view long monologues as having "chapters."
4. Stress to young actors the importance of using their emotions (anger, sadness), and allow the emotions to develop slowly.
5. Urge young performers to consider using familiar accents, gestures, etc. from within their own culture (not just pop culture), since producers are oftentimes seeking a cast of performers that are culturally diverse in every sense.
6. To improve their odds of winning roles, the actors to must develop different tempos for monologues to ensure the audition performance is exciting and interesting; not boring and lackluster.
7. Encourage young performers to craftily infuse all of their talents/skill sets (if appropriate) into their audition performance. This may help your child performer outperform the competition in an audition setting.
8. Take advantage of local opportunities to perform, in order to keep the actor's "chops" sharp and for their overall enjoyment of performing!
Use the aforementioned tips and much more advice and techniques from "Your Child is Gifted" to help your child be prepared, audition successfully and enjoying an acting career.
YOUR CHILD IS GIFTED: Excellent Tips, Advice and Techniques For Parents Who Want to Secure Acting Roles for Their Children" by Chappelle M. Griffin, Ed. D. is available in paperback, ($14.95) and also in Kindle format ($9.99) at Amazon.com
ABOUT THE AUTHOR:

Chappelle M. Griffin, Ed. D. has many years of experience as a stage and film actor, as well as a stand-up comic on the comedy club circuit in Southern California. He is a longtime member of SAG/AFTRA, an active member of his community and the personal manager for his children (pictured on the book cover) who work in the entertainment industry. His screenplay, "Paternity Test" is currently in pre-production.
The author is a happily married Christian father of four children, as well as a lecturer, writer and talent manager. He received his B. A. degree from Florida A & M University, and after earning his M.A. Ed., he received his doctorate in Educational Leadership from California State University, Fresno. As well, Dr. Griffin is an English teacher and school administrator in California's public K-12 school system.
# # #
Editors: To schedule interviews or speaking engagements with the author,
Contact Toni Beckham | 209-832-8020/408-499-3664c | Toni(a)PRetCetera.com