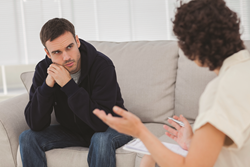 "Past and current traumas have a ripple effect over decades in the lives of individuals." - John Fusco, Psy.D, Gateway Treatment Centers
Chicago, IL (PRWEB) April 28, 2016
In honor of Mental Health Awareness Month in May, Gateway Alcohol & Drug Treatment Centers will offer a f ree continuing education (CEU) webinar for healthcare professionals.
The webinar, "Dual Recovery from Trauma and Addiction," will give participants the opportunity to earn one CEU and learn how to identify signs of trauma-infused personalities and how and when to intervene.
The Webinar presenter is John Fusco, Psy.D., M.Div., a Licensed Clinical Psychologist at Gateway Treatment Centers. John trains and supervises psychology students to provide diagnostic testing, biofeedback and individual, group and family psychotherapy in an inpatient addictions program for adolescents and adults with mental health related issues.
"Past and current traumas have a ripple effect over decades in the lives of individuals," Fusco said. "These traumas account for much if not most of a person's difficulties in living, anxiety, depression as well as inefficient and ineffective coping strategies, including the use of substances of addiction."
The webinar will be offered on two occasions: Wednesday, May 18 from 12:30 to 1:30 p.m. and Tuesday, May 24 from 12:30 to 1:30 p.m. Participants can receive one CEU IAODAPCA, NAADAC, Illinois: LCPC, LPC, LCSW, LSW, Nursing, Psychologist
Registration in advance is required at Recovergatway.org/training and space is limited.
"The trauma infused personality is a syndrome of troubling thoughts, feelings and behaviors which go down to the marrow of a person's psychological bones. It impacts almost everything about a person's relationships, view of self and view of the world," Fusco said.
Other areas to be discussed include coping mechanisms, stages of recovery and appropriate interventions for each stage.
Reporters and Editors, for more information, please call Leslie Colman, Director of Marketing, at (630) 776-7525.
About Gateway Alcohol & Drug Treatment Centers
Gateway Alcohol & Drug Treatment Centers provide substance abuse treatment services for teens and adults at drug treatment centers throughout Illinois and the St. Louis Metro East. Gateway's outpatient and inpatient treatment centers are licensed by the state of Illinois and accredited by The Joint Commission. Each year, Gateway's professional clinicians help thousands of individual's successfully complete treatment. Learn more about Gateway's free, confidential consultation, call (877) 505-4673.