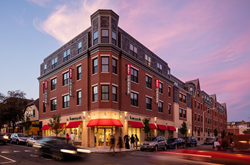 "We are proud of the 257 Thayer project and of the work our team has done to bring 'The Next Level of Student Housing'® program to our own backyard," notes Robert V. Gilbane, Chairman and CEO of Gilbane Development Company. "
Providence, RI (PRWEB) April 27, 2016
April showered Gilbane Development Company's 257 Thayer Street student housing community with multiple accolades for its sustainable features and innovative approach to student housing development. Gilbane's thoughtful design and sustainable development resulted in 257 Thayer receiving a LEED Silver certification from the US Green Building Council (USGBC) as well as winning the Student Housing Business Innovator Award for "Best New Development under 300 beds", presented last week at the InterFace Student Housing Awards in Austin, Texas.
257 Thayer achieved LEED certification for implementing practical and measurable strategies and solutions aimed at achieving high performance in: sustainable site development, water savings, energy efficiency, materials selection and indoor environmental quality. 257 Thayer features a 66kW rooftop solar array which produces approximately 10% of the electricity used by the building, paint with low-VOC and low emissions, low-flow fixtures to reduce water usage by at least 30%, electric car charging stations, bike storage, and high-efficiency systems.
"The work of innovative building projects such as 257 Thayer is a fundamental driving force in the green building movement," said Rick Fedrizzi, CEO and founding chair, USGBC.
Gilbane Development Company's 257 Thayer team members were also presented this week with a Student Housing Business Innovator Award honoring it as "Best New Development under 300 beds" in recognition of the project's innovative planning, design and implementation in this underserved Ivy League market.
"We are proud of the 257 Thayer project and of the work our team has done to bring 'The Next Level of Student Housing'® program to our own backyard," notes Robert V. Gilbane, Chairman and CEO of Gilbane Development Company. "Our team's commitment to creating vibrant, sustainable communities is evident with 257 Thayer's successful LEED Silver certification, and we are honored to accept the award by Student Housing Business this past week. Our goal is to not only create beautiful and functional places to live, work, and play, but to also leave the community better for future generations."
About 257 Thayer
Located on Thayer Street just across from the Brown University bookstore, 257 Thayer offers sophisticated apartments for today's student, with outstanding amenities and community spaces, sustainable living and the ultimate convenience of living right on Thayer Street in the heart of College Hill. The project was developed by Gilbane and designed by Cube 3 Studio, Project Architect; Union Studio, Design Architect; and, Raymond Thayer, Landscape Architect. For more information, visit http://www.257thayer.com.
About Gilbane Development Company
Founded in 1970, Gilbane Development is the real estate development, financing, and ownership arm of Gilbane, Inc. Developing a wide range of projects for both institutional and corporate clients, Gilbane Development integrates the myriad components of the project delivery and ownership structure and guarantees the results. Completed projects incorporate every aspect of real estate including: student housing, residential communities, mixed-used developments, garage/parking areas, corporate headquarters, healthcare facilities, operational | data | distribution centers, R&D | manufacturing facilities, and many types of facilities delivered through public-private partnerships. To learn more, visit http://www.gilbaneco.com or call 1-800-GILBANE.
###