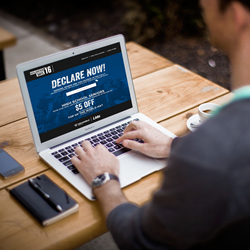 NORMAN, OK (PRWEB) May 03, 2016
To kick off the exciting time of year for high school seniors to declare the university they plan to attend in the fall, Top of the World has partnered with Lids to help one winning student with tuition.
High school seniors who share Top of the World's Declaration Days graphic on Facebook, Instagram or Twitter, declaring their school of choice, will be entered to win $5,000 towards tuition. Students can visit declarationdays.com to access their school's graphic. Students entering must also include the hashtag #DeclarationDays and tag @towcaps AND @lids (Faceook/Twitter) or @lids4hats (Instagram) to be entered. Students can also visit any participating Lids or Lids Locker Room store with their college acceptance letter to receive $5 off a regularly-priced Top of the World hat. The program will kick off April 26 and conclude May 16.
Top of the World initiated the program to show its support for students and support their pursuit for higher education. This fall the company celebrates 30 years of business, specializing in collegiate branded headwear. Since its inception the company has made the school their primary focus, recognizing the dedication students, parents and fans have to their university.
About Top of the World: Top of the World is the nation's leading collegiate headwear supplier based in Norman, Okla. Founded in 1986, Top of the World is now licensed with over 550 colleges and universities all across the country and is currently ranked as the fifth largest apparel licensee by the Collegiate Licensing Company. Top of the World employs more than 150 people and was recently named by The Oklahoman in its Top Workplaces 2015 list for the third consecutive year.