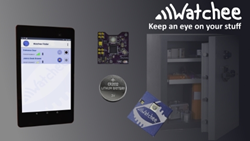 Grenoble, France (PRWEB) April 27, 2016
In an increasingly connected world, it makes sense to discover new objects that provide more or less unexpected services. Watchee monitors any suspicious movement, be it an object, a door, a drawer ... And will indicate to its owner at what time these movements occurred. Nowadays, more and more people rent their home regularly, but may fear the indiscretions of a curious tenant. They could place a Watchee module on their sensitive cupboards. How to be sure that a confiscated object has not been used? A Watchee module on the object will record the time of any displacement.
Based on a small 25mm x 25mm electronic board and powered by a conventional CR2032 coin-cell battery, the system can run for more than a year in "watching" mode. After having defined a rest position, the module will record the date and time of potential displacements from this position, as small and slow as they may be. A smartphone (or tablet) will later allow the user to get the displacements history through a dedicated application, provided that it includes the Bluetooth Low Energy technology (Bluetooth 4.0 or higher).
The Watchee system can also be used in alarm mode, allowing to generate a real-time alarm on the smartphone when motion is detected. One can easily imagine the interest in this mode when busy with a task while having to supervise a belongings or a safety gate for children.
Although it appears at first as a connected gadget, Watchee meets a certain need, as reported by its creator Vincent Heinrich: "Originally I created this system to satisfy a personal need. Then I realized that many other people could see its usefulness, each having in mind a situation where Watchee would have helped. Therefore the concept and the application were improved and finalized for a crowdfunding. "
Indeed, still at the last prototype stage, a crowdfunding campaign on Kickstarter platform has just been launched to start producing modules (available from 20 euros, but in limited quantities). If all goes well, the backers of the project should receive their reward in October this year.
More information: see the Kickstarter page