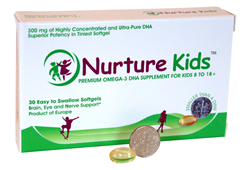 A convenient way for moms to maintain healthy omega-3 levels in their kids' diet
Los Angeles, CA (PRWEB) April 27, 2016
Anpas Global LLC, the makers of Nurture Me®, their flagship high potency Omega-3 DHA supplement for women, recently launched a new omega-3 DHA product specifically designed for children. Nurture Kids® is the highest triglyceride Omega-3 DHA supplement for children eight years and older.
The "smaller-than-a-dime" triglyceride DHA soft gels are highly absorbent and easy to swallow. Nurture Kids has received the "Seal of Approval" from independent third-party testing laboratory Pace Analytical. The Seal of Approval means the product meets or exceeds the highest industrial standards in three areas: oil potency, concentration, and environmental contaminant testing. The results of the test are available to all in a consumer-friendly test report displayed on the company's website and on Amazon.
Nurture Kids is a convenient supplement to maintain the Omega-3 DHA levels in children. Most mothers face a dilemma when it comes to adding healthy Omega-3s to their kid's diet, especially those that are picky eaters. The best food source of vital Omega-3 DHA and EPA is fish but many kids dislike eating it.
Although there are several Omega-3 Fish Oil products catered towards children, most kids shy away from consuming them due to their nasty fish odor. The products that successfully mask the fish odor are often laden with a high amount of sugar or additives and very low levels of healthy Omega-3s. Nurture Kids® with its small pill size and high quantity of concentrated DHA per pill is a convenient solution for moms. Sapna Misra, President of Anpas Global LLC shares, "The idea to extend our current Nurture Me® Omega-3 DHA line to kids came when mothers who are loyal Nurture Me customers started asking if they can give the tiny soft gels to their young kids and teenagers."
Dr. Rahmani, a Los Angeles based mother and physician, posted the following review on Nurture Kids "Great product. My kids need to take 6 pills of similar brands to get the same amount of DHA in one capsule of this product. My daughter is seven years old, and to my surprise, she loves to chew this capsule. I highly recommend it."
About Nurture Kids®
"Smaller than a Dime," Nurture Kids® by Anpas Global is the highest concentrate Omega 3 DHA soft gel for kids 8 to 18+. Each tiny soft gel delivers 300 mg of Omega 3 DHA, the highest dose per soft gel compared to other Kid Omega 3 DHA products. The DHA oil used in this product is custom extracted in Europe using a gentle, low-heat, Super Critical Extraction Process. The oil is encapsulated in fish gelatin and each gel is individually wrapped in pharma-grade blister strips to protect the product's high quality and prevent it from oxidation. Over 30,000 research papers on the health benefits of Omega-3s have been published, making Omega-3s a vital nutrient to add to a child's daily diet. DHA is important for their developing brain and vision health. Emerging research also suggests the benefits of Omega-3s to support better behavior, focus and learning.
About Anpas Global: Anpas Global is a supplier of high quality scientifically researched Nutraceutical raw materials. Their portfolio includes the highest concentrations of EPA and DHA marine fish oils in the industry. Their newest consumer product Nurture Kids® is manufactured in a FDA, NSF regulated facility and is third-party tested by Pace Analytical Labs for purity and quality.