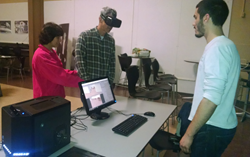 Sierra College students, industry partners and community members are eager to learn about the latest Virtual Reality technology.
Rocklin CA (PRWEB) April 28, 2016
At the Sacramento Virtual Reality (SACVR) meetup being hosted by Sierra College on Friday, May 6, attendees will be able to see cutting-edge virtual reality (VR) technology before it goes mainstream. The meeting will be held at 6 PM in the cafeteria at the Rocklin campus, located at 5000 Rocklin Rd, Rocklin CA. At this free event, participants will see demonstrations of the newest equipment and hardware for developing and enjoying virtual reality. Go online to the SACVR Meetup to RSVP.
SACVR is organized by Brian Bullard, a local VR developer featured on the Oculus Store; Sebastian Romanet, a Sierra College mechatronics student and Unity developer; and Matt Carrell, a patented VR hardware inventor and creator of the Stompz foot controller. The organizers encourage those who are curious about virtual reality to come to the meetup to learn more. "We can teach you how to develop and get involved so you can catch the VR wave as its breaking," said Carrell.
Carrell explained that the meeting on May 6 will be sponsored by local VR companies, Talaris Technologies and FoundryVR. "There will be plenty of VR demos and new prototypes to check out," said Carrell. "This is the next great technological revolution and SACVR wants to help people develop their own virtual reality experiences."
According to Carol Pepper-Kittredge, Director, Center for Applied Competitive Technologies (CACT), Sierra College, over 90 people attended the previous Sacramento Virtual Reality Meetup held on campus. "Sierra College students, industry partners and community members are eager to learn about the latest technology and to connect with local VR leaders," said Pepper-Kittredge. "Previous meet-ups have encouraged collaboration and sharing of ideas. Come to this event at our Rocklin campus to see what it is all about and experience virtual reality."
To attend, RSVP to SACVR Meetup.
About Sierra College CACT
Sierra College Center for Applied Competitive Technologies (CACT) is focused on Advanced Manufacturing training and development, and is funded through the Workforce and Economic Development program of the California Community College Chancellor's Office. Since 1992, the Sierra College CACT has provided customized training for organizations, manufacturers and technology companies throughout Northern California. Through the Sierra STEM Collaborative, Sierra College works with college faculty as well as middle and high schools to promote STEM Education and careers. Additional information is available at the Sierra College Training website or contact Carol Pepper-Kittredge at 916-660-7801 or cpepper-kittredge(at)sierracollege(dot)edu.
About Sierra College
Sierra College District is celebrating its 80th Anniversary in 2016, and the Nevada County Campus in Grass Valley is celebrating 20 years. Sierra College serves 3200 square miles of Northern CA with campuses in Roseville, Rocklin, Grass Valley, and Truckee. With approximately 125 degree and certificate programs, Sierra College is ranked first in Northern California (Sacramento north) for transfers to four year Universities, offers career/technical training, and classes for upgrading job skills. Sierra graduates can be found in businesses and industries throughout the region. More information at the Sierra College website.