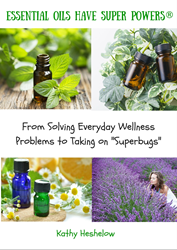 A Special 2-Day Promotion for the Kindle Book, "Essential Oils Have Super Powers" Starts Today.
St. Petersburg, FL (PRWEB) April 27, 2016
"My mission is to help people understand how amazing Essential Oils are, what they can do naturally, and how they can solve so many problems (from poor sleep to fighting superbugs)," says author Kathy Heshelow.
Her book in Kindle Format is available at no charge today and tomorrow through a special Amazon promotion. "I want to make the book available to as many people as possible, to unveil this important subject," says Heshelow.
Heshelow says she wrote this book for many reasons, including:
-To delight and amaze the reader about the powers and natural abilities of essential oils.
-To empower people for natural wellness solutions they may have no idea exists
-To highlight and reveal what essential oils are, how they work and why they are effective
-To explain why they have been used for centuries but why they are lesser known in the U.S today
-To go into great detail about the crisis of antibiotic-resistant microbes and why essential oils are playing a role in stopping them
-To reveal current day clinical research and results
-To elaborate on the Mind-Body connection for wellness
-To fascinate with historical stories and anecdotes
-To explain dosages, safety tips and easy to use recipes - and more.
Get a copy today and tomorrow only at no charge in Kindle format on Amazon, with no need for coupon.