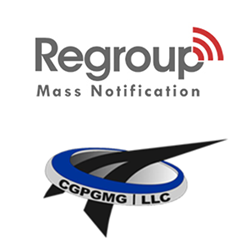 During an active shooter event or terrorist attack, institutions need to not only notify the public about the situation, but also ensure the right steps are taken to guarantee people's safety
San Francisco, CA (PRWEB) April 27, 2016
Regroup Mass Notification, the award-winning leader in emergency and mass communication technology, today announced the creation of a strategic alliance with CGPGMG, LLC, nationally-recognized active shooter and domestic terrorism prevention experts.
During an active shooter event or terrorist attack, institutions need to not only notify the public about the situation, but also ensure the right steps are taken to guarantee people's safety. This new partnership will cover both aspects of successfully responding to a crisis.
By combining CGPGMG's critical response expertise with Regroup's powerful communication platform, mutual clients will be better prepared to react amid an active shooter and effectively utilize mass communication technology during the event. Disseminating crucial information and instructions in a timely and reliable manner will ensure the right procedures are followed and lives are saved.
"The best outcome of any active shooter event is that it ends without any casualties. We know that the average active shooter event ends in seven minutes, while it takes police an average of 14–17 minutes to arrive on the scene. It is therefore critical that institutions take the lead in communicating with employees and other key constituents, and provide them with rapid notification of the event, as well as actionable instructions for staying out of harm's way. By partnering with Regroup, we've found a communication solution that when combined with our training, we feel will save lives," said Chris Grollnek, Co-Founder and CEO of CGPGMG.
Regroup's powerful, yet easy-to-use mass notification platform is leveraged by universities, government agencies, corporations and nonprofits across North America to streamline emergency and day-to-day communications.
"We're very pleased to be partnering with CGPGMG. Chris is one of the most well-respected and sought-after experts in the United States when it comes to active shooter prevention training. Our clients often look to us as a trusted advisor when it comes to recommending solutions. When our mutual clients add Chris's training with our mass notification platform, we feel they are putting effective measures in place that will guarantee the best possible outcome should an active shooter strike at their workplace," said Joe DiPasquale, CEO of Regroup.
To learn more about Regroup Mass Notification please visit: http://www.regroup.com.
###
About Regroup:
Regroup, the leading provider of Emergency and Mass Notification solutions and DRI 2015 Notification System of the Year, offers easy one-click messaging to mobile phones (text/voice), landlines, email, social media, websites and more. Regroup stands apart from other mass communication systems with its ease of use, automated messaging capabilities, seamless integration with client databases and other third-party systems, unparalleled 24/7 customer support and unlimited text/voice/email messaging.
To learn more about how Regroup's Emergency Notification System can provide rapid communications during a crisis, as well as streamline day-to-day communications, call 917-746-6776 or email inquiries(at)regroup(dot)com
About Chris Grollnek/CGPGMG:
Chris Grollnek is an award winning former police investigator and one of the nation's highly respected policy experts in the prevention of domestic terrorism and active shooter incidents. In 2012, he co-founded CGPGMG, bringing together 15 individual companies representing the nation's select experts in security disciplines. Collectively, this group's mission (CGPGMG) has been to advance and improve security training and facilitate workplace safety.
As one of the leading experts and authorities on the phenomenon of Active Shooter events and Domestic Terrorism Prevention, Chris has appeared on numerous national television networks, including Fox, CBS, NBC, ABC, CNN, OANN and The Blaze, along with numerous syndicated radio broadcast programs.
To learn more about how Chris and CGPGMG can train your organization on active shooter prevention and response, call 214-856-3362 or email chris(at)cgpgmg(dot)com.