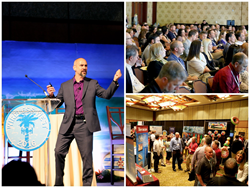 The time for an event like Wireless West is right, as it's no secret that the West Coast is home to many of the world's most respected technology companies, who are having a profound impact on the technology and wireless scene.
Anaheim, CA (PRWEB) April 27, 2016
From coast to coast, members of the wireless community came together last week for an impressive two-day learning and networking experience at the inaugural Wireless West Conference (wirelesswestconference.com). The sold-out conference commenced on April 20th at Disney's Grand Californian Hotel in Anaheim, California, bringing with it quintessential "Happiest Place on Earth™" moments. Attendees throughout wireless were welcomed by Mayor of Anaheim, Tom Tait, and greeted by none other than Minnie Mouse to kick off this fun-filled, educational event.
With more than 500 attendees, 42 exhibitors, expert panelists, and engaging keynote speakers, the conference created a buzz throughout the wireless industry, now referred to as the most exciting wireless conference on the West Coast. Proof of the event's success were the overflowing networking events and standing-room-only educational sessions, with hot topics ranging from drones to smart light poles.
"The overwhelming success of this inaugural event is apparent from the sold-out attendance and avid participation of individuals and organizations throughout the wireless industry," said Patti Ringo, VP of Core Development Services and California Wireless Association. "The conference is a reflection of our industry, not only where it is now, but more importantly, where it is heading. The wireless professionals in attendance brought their inquisitive minds to Anaheim last week, using the conference for its intended purpose – to engage, educate and inspire."
The Wireless West Conference opened with a keynote from Joseph Wolfgram, CTO of Hoag Hospital and Executive Partner Teledata Consulting, who presented intriguing insight on wireless and its prevalence in healthcare. Wolfgram explained, "the time for an event like Wireless West is right, as it's no secret that the West Coast is home to many of the world's most respected technology companies, who are having a profound impact on the technology and wireless scene."
Wolfgram enjoyed the educational opportunities presented at Wireless West, saying, "I'm so honored to be a part of Wireless West. Sharing knowledge, connecting with industry experts, and learning from the brightest minds in the business. I am already looking forward to next year's event!"
The final day of the conference was a home run, starting off with a keynote address from Ray Chan, Director of Technology for the San Diego Padres and Petco Park. Chan emphasized the importance of utilizing wireless technology to stay ahead of the expectations of "the increasingly tech-savvy millennial generation." He adds, "the San Diego Padres are tech leaders in the MLB and are always striving to innovate and enhance the fan experience."
As the exhibit hall, educational sessions and keynote addresses came to a close, anxious attendees had the unique opportunity to attend a closing reception inside Disney's California Adventure. The "Queen of Hearts" themed event brought together the show attendees for a final Disney experience, including a special viewing of the captivating "World of Color" light show.
Kari Willis, President of The-E-Factor and Executive Director of California Wireless Association, is thrilled to have played a part in the event coordination, saying, "I'm honored to have been part of the incredible committee that took on this inaugural event. I am humbled by the positive response and attendance, and grateful we could bring such a well-rounded event to the wireless industry, providing attendees with a new and exciting experience."
With the success of this inaugural event, Wireless West was deemed to be an annual conference, whose location could be determined by show attendees. In the spirit of wireless, attendees texted their votes for the 2nd annual Wireless West Conference location, which will return to California in 2017. Visit the Wireless West website to stay up to date on event dates and details.
About Wireless West
The Wireless West Conference was created by five wireless associations spanning the West Coast and Rocky Mountain regions: the California Wireless Association, Arizona Wireless Association, Nevada Wireless Association, Colorado Wireless Association, and Northwest Wireless Association. Their primary goals are to educate the wireless community and provide a forum where industry professionals can join together for two days of shared learning and networking.