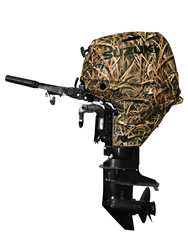 "Many of our customers love camo. We thought, 'Why not offer them the Suzuki motor they want with the option of a camo finish?'"
Dickson, TN (PRWEB) April 28, 2016
Onlineoutboards.com and Cumberland Watersports have introduced a new, camouflage version of Suzuki's high-performance 25-hp outboard motor. The four-stroke outboard features a battery-less fuel injection system and is available in the Mossy Oak® Shadow Grass Blades™ camouflage design.
The pattern is hydro-dipped onto the surface of the motor and, unlike a decal, will not peel off.
"Many of our customers love camo," said Steve Herbert, sales manager of Cumberland Watersports. "We thought, 'Why not offer them the Suzuki motor they want with the option of a camo finish?'"
Customers interested in the new, camouflage version of the Suzuki motor can purchase it online at http://www.onlineoutboards.com/camooutboards or from Cumberland Watersports' location in Dickson, Tenn. For more information and pricing, contact 615-375-1837.
Cumberland Watersports and Onlineoutboards.com specialize in portable, outboard motors for boats and other watercraft. The family-owned business, which was named by Suzuki as one of its top 20 dealers in the U. S. in 2015, is one of the nation's largest dealers of outboard motors and has been in operation for more than 20 years. It offers customers free shipping on every motor purchase. In addition to the Suzuki brand, the company carries motors manufactured by Tohatsu, Mercury and Honda.