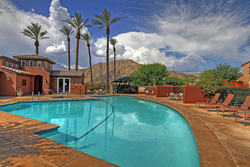 Investors are back and looking toward real estate to get the returns they are used to.
La Quinta, CA (PRWEB) April 27, 2016
Brad Schmett, Broker Associate with Luxury Homes by Keller Williams today announced that a brisk spring season resulted in a sellout of the standing inventory at popular Codorniz. As quality builder RJT Homes makes preparations to open three new, beautifully appointed, furnished models this summer they will also initiate four more under new construction as well.
The three newest models are from the Lantana, Sage, and Verbena collections and are expected to be ready for sale in around 60 days. With a starting price of only $282,000, these stylish patio homes are still the hottest value in the Palm Springs area given their prime location in coveted South La Quinta. Surrounded by million-dollar homes and exclusive gated communities, Codorniz offers a simply unparalleled combination of opulence and affordability.
Schmett spoke about the current market trends, "We are seeing a couple of prominent trends as summer approaches. Investors are back and looking toward real estate to get the returns they are used to. Real estate has always been a good, safe and solid investment, particularly in Southern California. With baby boomers at retirement age, many are looking to downsize so they can travel and enjoy their golden years. Codorniz makes that possible with 'lock up and leave' convenience in a worry free, luxury environment. "
Interest rates still remain low, and buyer-friendly financing packages are available for all of the latest Codorniz models. For more information or to schedule a private tour, contact Brad Schmett Real Estate Group at 47100 Washington Street, Suite 204 in La Quinta.
For more information on luxurious Codorniz in South La Quinta visit http://www.codorniz.net.
To find out more about investing in La Quinta, CA real estate visit http://www.laquintarealestateinfo.com.
About Luxury Homes by Keller Williams: Luxury Homes by Keller Williams – La Quinta, is an exclusive, elite and sophisticated group of real estate consultants raising the bar for service in the upper-tier La Quinta and Palm Springs area residential real estate market.