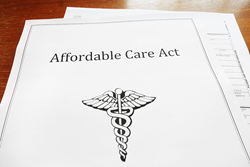 The Blue Cross and Blue Shield member companies' and UnitedHealthcare's decision to leave the ACA may result in an economic avalanche for some households.
Destin, Florida (PRWEB) April 27, 2016
Following the example of several Blue Cross and Blue Shield member companies last year, UnitedHealthcare, the nation's largest commercial health insurer, just confirmed that it will be exiting the ACA insurance exchanges in most states. Though UnitedHealthcare has not yet disclosed which locations it will continue to operate in, the decision comes after losing hundreds of millions of dollars because of its participation in the exchange marketplace. Currently, the insurer covers 34 ACA areas, but it will only stay in "a handful" starting next year.
As noted in The Hill, Insurers Warn Losses from ObamaCare are Unsustainable. CEO of Aetna, Mark Bertolini stated a few months ago, "We continue to have serious concerns about the sustainability of the public exchanges." McKinsey & Company reported that insurers in 41 states did not see any profit in 2014.
Watertree Health President Shane Power cautions, "The Blue Cross and Blue Shield member companies' and UnitedHealthcare's decision to leave the ACA may result in an economic avalanche for some households. There may be higher premiums due to less competition in the marketplace as well as higher co-pays due to the loss of the strong negotiating power that larger insurance companies tend to have. Also, there may be less and less popular medicines covered on new plans. Already, people struggle to pay for their medication."
The Kaiser Foundation states in Analysis of UnitedHealth Group's Premiums and Participation in ACA Marketplaces that the insurer's decision to exit the marketplace will have a significant effect on premiums in particular regions.
Power predicts that many people may return to having no health insurance coverage because they won't be able to afford the higher premiums. If that is the case, repercussions for rising numbers of uninsured may be extensive: many people may persistently be sick because they cannot pay for doctor visits, or they may use emergency rooms as free resources, which burdens all taxpayers.
Given this latest development with the ACA, we must find another way to help make health care accessible to everyone in America, and quickly.
In the meantime, Power reminds those with insufficient coverage or high prescription costs: "This is why we created the Greatest Prescription Savings℠ ("GPS") drug-price-lookup tool — to show people that they can afford to get their prescription filled at their favorite pharmacy, with the free Watertree Health Prescription Discount Card. To use the GPS, consumers simply enter the name of their prescription and zip code at wtree.us/savingstool. If they don't have a card already, they can get one by going to this website or by texting CARD to 95577."
About Watertree Health
Watertree Health was founded in 2010 to address the growing need for accessible and affordable health care products and services in America. The Company's free Prescription Discount Card saves money on most FDA-approved brand and generic medications. The Greatest Prescription Savings (GPS) tool (wtree.us/savingstool) provides the cost of medicines with the card at nearby pharmacies.
For more information, visit WatertreeHealth.com.