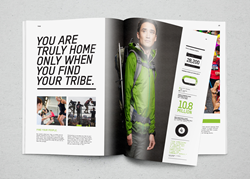 Seattle, WA (PRWEB) April 27, 2016
For years, Williams Helde Marketing Communications has provided fluency in the active healthy market segment, affording renowned brands the ability to deliver intelligently designed, potent marketing campaigns that resonate. Their landmark AHL/Active Healthy Lifestyle research report unveiled in 2012 includes 35 pages of in-depth audience demographic profiles, buying attitudes, styles and motivations, yielding an insider view of a powerful consumer base. Since then, their research has gone much deeper, extending far beyond the demographics and psychographics to uncover a fascinating revelation – 80 percent of North Americans aspire to be active and healthy. This mindset revolution is revealed via the Williams Helde Silver ADDY Award-winning book, The Rise of the Active Explorer.
"We discovered a segment of people searching for and aspiring to active, healthy lifestyles was growing like gangbusters," said Marc Williams, President, Williams Helde Marketing Communications. "The closer we looked, the more interesting this segment became: they are powerfully brand-loyal, willing to spend more to yield better experiences, and more likely to influence friends. In short, these are the people marketers spend big money to talk to."
The Active Explorer Mindset
The book provides powerful insights into the surprisingly mainstream state of mind of active explorers, breaking them up into five sections: fitness, health, gear, tribe, and trends. Active Explorers want to live longer and are practicing wellness through physical activity, smart eating, and maintaining their mental health. More and more, an active healthy lifestyle seems within reach to anyone, from a triathaloner in the Pacific Northwest to a lapsed jogger in the Great Plains, from a vegan gourmand in Brooklyn to a Floridian who chooses the organic salad from McDonald's.
What it Means for Brands
Whatever the product, from insurance to automotive, brands are either enabling active healthy lifestyles or getting in the way. The Rise of the Active Explorer makes clear that brands need to find a way to communicate with active healthy consumers in a manner reflective of their values. If brands are not talking to active explorers (in a manner that resonates), they're not talking to the fastest-growing, most affluent, and most educated customers and are missing out on engaging powerful ambassadors.
The more companies invest in common ground with this mindset, the more they earn their attention, loyalty, and trust. Brands don't have to be active healthy lifestyle companies. There is a reason why McDonald's is retooling menus to include healthy options, Costco is the number one seller of organic goods in the world, and Gap continues to launch extensive activewear collections. Each of them is making a big push into this demographic – through fresh, local, lifestyle, and tribe.
"We set out to find what people are craving in their lives and how brands can help them achieve that," Williams said. "We ended up with something even more meaningful by helping to advocate for and inspire better living though a healthy active lifestyle."
The Rise of the Active Explorer includes strong insight into attitudes towards advertising and brands designed to help businesses effectively market to this group, maximize equity, and fuel sales. For more information about how you can utilize the book to fine-tune an existing campaign or launch a new one, contact Marc Williams at mjw(at)williams-helde.com.
About Williams-Helde:
Since 1969, Williams Helde Marketing Communications has been working harmoniously with clients in the active healthy lifestyles category. The Seattle-based marketing consultancy helps national and global brands create intelligent campaigns that maximize equity and drive sales, and aims to become each client's most trusted resource. http://www.williams-helde.com Twitter: @williamshelde
About the Silver Addy Award
The American Advertising Awards, formerly the ADDYs, is the advertising industry's largest and most representative competition, attracting over 40,000 entries every year in local AAF Club (Ad Club) competitions. The mission of the American Advertising Awards competition is to recognize and reward the creative spirit of excellence in the art of advertising. Conducted annually by the American Advertising Federation (AAF), the local Ad Club phase is the first of a three-tier, national competition. Concurrently, all across the country, local entrants vie to win ADDY Awards – recognition as the very best in their markets. Learn more at http://www.americanadvertisingawards.com.
###