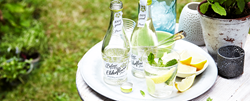 Our drink is an integral part of the British heritage
New York, New York (PRWEB) April 27, 2016
Belvoir, the lovely UK lemonades, is delighted to partner with the Britweek to celebrate innovation and creativity between the UK and the US.
"This 2016 edition of the Britweek LA is very special for us as it is Britweek's 10-year anniversary and the 400th anniversary of Shakespeare's death," says Olivier Sonnois, Team leader at BWR group. "We wanted Belvoir to be part of these West Coast celebration as our drink is an integral part of the British heritage," he adds.
For 2 weeks, various events highlighting British contribution to innovation, fashion, film and music industries will take place throughout the city of LA. Belvoir lemonades, the artisanal elderflower drink born in Lincolnshire, UK, will be offered to guests at more than a dozen of these events: Shakespeare evenings, the Business Innovation Awards gala, exhibitions, films screenings, in-store actions and many more.
100% Natural – no additives or preservatives, gluten free, GMO free and Vegan - Belvoir Fruit Farms Lemonades are made with the finest ingredients inspired by homemade recipes. This range of refreshing alternatives to the traditional soft drinks offers also multiple opportunities as cocktail mixers.
About Belvoir Fruit Farms
Belvoir Fruit Farms is nested in the idyllic valley of Belvoir – Lincolnshire, UK – renowned for its castle estate where the family farm is located. It was just a fruit farm until Mary Manners, wife of founder Lord John Manners, started picking and infusing the elderflowers. Pressed, the flowers and fruits grown on the farms became syrup, which mixed with the spring running through the estate, blossomed into the lovely lemonades.