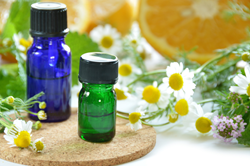 Get the New Book "Essential Oils Have Super Powers" Signed by the Author when You Sign Up for ZEN BOX or ONE-A-MONTH Club by Midnight Friday April 29th.
St. Petersburg, FL (PRWEB) April 27, 2016
Sublime Beauty Naturals® and founder Kathy Heshelow are committed to helping people understand the power and benefits of essential oils.
"We designed two subscription products to help people build their collections while learning all about each essential oil, in an easy and fun format," says Heshelow.
ZEN BOX is a subscription box of 3 essential oils monthly plus a 4th item every quarter ($39), while the new One-A-Month Club ($10.99) sends 1 essential oil monthly in a bubble envelope. Education and HOW TO guides are emailed to members when the products ship.
Heshelow authored the new book "Essential Oils Have Super Powers®" and is offering signed copies to those who join either club by midnight Friday 29 April. It is a $25 value.
The book can help form a base of education and knowledge about these amazing essences, Heshelow says.
All essential oils from Sublime Beauty Naturals® are therapeutic grade with GC/MS testing for purity.
Sign up for ZEN BOX at the Cratejoy site here, get 15% Off for Life in addition to the book,, and use code BOOK15.
Sign up for the One-A-Month Club on the Sublime webstore(be sure to create an account for the special reward points.)
Learn more about ZEN BOX on our content site.