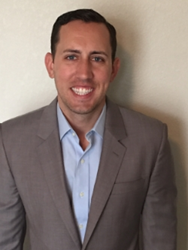 (PRWEB) April 28, 2016
Epling has worked with clients primarily in health care, technology and energy industries in private, publicly-traded and non-profit organizations. Epling is an outstanding addition to FutureSense, which specializes in human capital workforce planning, leadership development, executive coaching, talent management, compensation, cultural change initiatives and employee relations. Epling will certainly be an integral force amongst a team of innovators.
Epling joins FutureSense from Western Union, where he worked as Manager of Executive Compensation in Denver, Colorado. He offered compensation leadership to the Board of Directors and executives of the organization. His professional experience also includes compensation-consulting roles with Towers Watson and Mercer. "The move from larger firms to a boutique consultancy was almost seamless because I've always operated on very small teams. The relationship focus was the main attraction for me because I believe in the power of doing what's right by the client and ensuring they're set up for future success. I'm looking forward to bringing my broad knowledge of industry practices to FutureSense and helping grow the firm into the next generation of success." says Epling.
Epling's work focuses on helping clients design pay and benefits programs that support a company's business strategy and drive employee engagement. He has helped clients design, administer and measure the effectiveness of company-wide HR programs. Areas of focus include: development of total rewards strategies; Total Rewards Optimization; executive market analyses and organizational leveling; special retention programs; and, salary administration, including base salary structures, merit pay and step rate increases.
Epling graduated from the University of Colorado Boulder with a quantitative finance degree and minors in economics and applied mathematics. Epling is a member of WorldatWork, the Rocky Mountain Compensation Association, and holds certifications from WorldatWork (Certified Compensation Professional and Global Remuneration Professional).