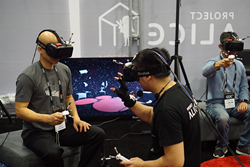 By using all of this technology, we can track the position and orientation of the head and props as well as actual real life objects. This gives the user a well-rounded, immersive and realistic experience."
San Jose, California (PRWEB) April 27, 2016
Noitom will be at the Silicon Valley Virtual Reality Conference is San Jose, California, from April 27-29 where they will be presenting their groundbreaking B2B virtual reality platform Project Alice. This will be Noitom's second appearance at SVVR where they previously showcased their affordable motion capture system, Perception Neuron. This year's conference will expose the Project Alice platform to the developers, entrepreneurs, hackers, and artists that attend the annual event. During the conference, Noitom's CTO, Dr. Tristan Dai, will take part in a speaking session where he will discuss body and environmental awareness in VR.
"This time at SVVR, we are allowing people to demo our multi-person, large-dimension VR experience," explains Dr. Dai. "What we want to share with the world is the difference between the commercial virtual reality solutions and those that are for consumers. For the commercial products we need to provide much better quality as compared to what can be experienced at home."
With Project Alice, Noitom has succeeded in creating something that has never before been an option for B2B initiatives. The multi-faceted platform offers clients working in industries such as entertainment, manufacturing, design, marketing, and education a complete simulation and virtual training solution that delivers high quality immersive environments at reasonable costs.
The key advantages of Project Alice as a B2B solution lies in its five essential precepts:
Multiple user interaction
Precise and low-latency hybrid tracking of HMD and physical objects
Large tracking dimension
Body and hand tracking in VR
Low cost
Utilizing a platform like Project Alice, businesses will be able to create custom, interactive VR experiences that can be used for training, simulation, learning, and for virtual tours of company showrooms and factories.
"For Project Alice, we provided a large-scale tracking system called a hybrid motion capture system," says Dr. Dai. "We used optical cameras and together with the inertial sensors we made the data fusion and calculations. By using all of this technology, we can track the position and orientation of the head and props as well as actual real-life objects. This gives the user a well-rounded, immersive and realistic experience."
The Project Alice demo at SVVR will allow participants to experience certain aspects of the platform's technology. Demo participants will be given an HMD and a hand-held controller before being led into a virtual universe where they will have the capability of moving through different sample scenarios within Project Alice.
On the first day of the conference, Dr. Dai will lead the discussion "Vision, Body and Environment Awareness in VR." Dr. Dai will explain why there is an innate compulsion for body and environmental awareness in VR and how, with our ever increasing ability to manipulate and trick human senses through technology, our capacity to deliver truly immersive virtual experiences becomes a reality.
Project Alice is being developed in association with several global partners. Hardware support is being provided by global PC leader Lenovo and graphics processor powerhouse NVIDIA. Software and content support is being developed in cooperation with Chinese media giant Alpha Animation, Swiss VR house Kenzan Studios and mobile phone technology innovator Smartisan.
SVVR is taking place at the San Jose Convention Center from April 27-29. Noitom will be at Booth # 301. To attend a demo session for Project Alice, attendees will need to visit the Noitom booth and request a session ticket. Sessions are limited and will take place throughout the three days of the conference. Private demos of the Perception Neuron motion capture system will also be available by request. The speaking session with Dr. Dai takes place on Wednesday, April 27 at 3:30 pm in conference center room 230B. For a complete schedule and more information on SVVR, please visit http://vrexpo.com/exhibit-or-sponsor/.
To learn more about Noitom, visit noitom.com. For questions about Project Alice, please email contact(at)neuronmocap(dot)com
Founded in 2011, Noitom Ltd. works with a team of dedicated engineers who develop world-class motion capture technology for consumer and industrial markets through the integration of MEMS sensors, pattern recognition, human kinetics and wireless transmission. Noitom is an international leader in innovative technology for use in animation, film, medical applications, robotics and gaming. Noitom is headquartered in Beijing with affiliate offices in Shanghai and Shenzhen. The company also has two US offices located in Miami and Scottsdale. For further information about Noitom and its services, please visit, http://www.noitom.com. For general inquiries, please email, info(at)noitom(dot)com.