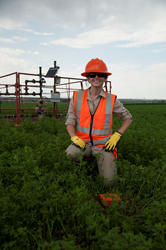 Providing a casing integrity evaluation method that increases accuracy and reduces cost will make oil fields safer and more productive.
SAN DIEGO, CA (PRWEB) April 28, 2016
GroundMetrics Inc., a world-leading electromagnetic survey company and oil and gas technology pioneer, was awarded a contract for casing integrity evaluation by the US Department of Energy (DOE).
GroundMetrics already uses its propriety resistivity sensors and software to address many applications on the oilfield, including Enhanced Oil Recovery (CO2 and steam), water flood, and frac fluid monitoring. But the same electromagnetic imaging technology can also be using to map wellbore integrity, using the casing itself and surface based sensors. This is a unique solution that requires no instrumentation inside the wellbore, making it less invasive than other logging technology.
Casing integrity failures can result in lost fluids, less production, environmental damage, and liability issues. Well integrity is a major issue for older water and oil wells, affecting more than a million wells nationwide. Over time, corrosion and exposure to wellbore fluid or mechanical failures damage wells to the point where they lose mechanical stability. Repair is costly and preventative maintenance using existing logging tools is prohibitively expensive.
In partnership with DOE, GroundMetrics will image a well casing to determine whether or not the technology can be used to detect breakages or confirm integrity. If the test is successful, it will allow oil companies to evaluate casing integrity without taking wells offline, empowering them to reduce cost, minimize environmental impact, and optimize production resulting in more wells surveyed and fewer bad wells. Data showing an intact casing would act as an assurance for treatment plans.
"We're excited about this test," said George Eiskamp, CEO at GroundMetrics. "Casing breakages are a profound pain point for operators. Providing a casing integrity evaluation method that increases accuracy and reduces cost will make oil fields safer and more productive. We also like playing a role in helping to preserve the environment as well."
"By identifying problem wells in a noninvasive manner, we will be able to save operators money and mitigate serious environmental challenges at the same time," said Jeff Symington, CFO at GroundMetrics. "Given where oil prices sit right now, that's a big deal. It needs to be a win for the planet and the bottom line."
GroundMetrics Inc. is a full-services survey and monitoring company and the world leader in surface-based resistivity sensing onshore. Its customers include oil and gas companies as well as government energy agencies. GroundMetrics uses its unique technology to eliminate blind spots underground, which increases production, improves efficiency and reduces wasted spending and capital expenditures.