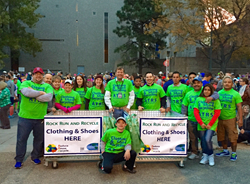 NASHVILLE, TN (PRWEB) April 27, 2016
The city's legendary country music will be overtaken by the sounds of rock 'n' roll this weekend as Nashville gears up to host the St. Jude Rock 'n' Roll Marathon & 1/2. Thanks to American Textile Recycling Service (ATRS), participants in Saturday's races will run clean and run green by donating and recycling their gently used gear during Race Weekend.
For the fourth consecutive year, ATRS is kicking off its ROCK RUN RECYCLE Campaign amongst over 70 other exhibitors at the two day Health & Fitness Expo. Runners can visit the Green Recycling Mascots at Booth 315 to donate gently used running gear, including apparel and shoes that may be too worn to compete in but can still be used by someone in need. Expo attendees can learn where to donate in any city where they run, and pick up the company's popular mini lip balm that's a perfect size for runners' pouches.
The ATRS Green Team will also be on the Course bright and early Saturday morning to collect all dropped warmup gear. Marathon & 1/2 participants are encouraged to skip the gear check and instead wear warmup gear to discard and donate along the course. Approximately one dozen volunteers, clad in green "Clothing & Shoe Recycling" tees, will follow runners to pick up all sweaters, jackets, gloves and other donated textile items that are tossed in the corrals or along the first several miles of the course.
After Race Weekend, the donations are sorted for reuse, recycling or redistribution where they are needed most. The grooviest part of the ROCK RUN RECYCLE Campaign is that no matter where the donations end up, the funding generated always stays local. Every single pound of running gear and shoes dropped off at the Expo and on the Course helps raise funding for ATRS partner MADD Tennessee. Not only are Rock 'n' Roll participants helping to divert a precious resource from Nashville's landfill, they're simultaneously supporting a local charity. Now that's a reason to celebrate!
Registered Rock 'n' Roll participants are encouraged to support the campaign on social media by posting Race Weekend donation pictures or videos using hashtag #RockRunRecycle. Attendees can make clothing & shoe donations a year-round habit simply by calling the ATRS 24-Hr Hotline 866-900-9308 or visiting http://www.atrscorp.com after the race to find a permanent donation bin in their neighborhood.
About American Textile Recycling Service
American Textile Recycling Service (ATRS) is the nation's fastest growing textile recycler and an official recycling partner of Rock 'n' Roll Marathon. Its socially responsible business model provides free textile recycling solutions for the public, job stimulation worldwide and much-needed funding for worthy local charities. Easy, convenient ATRS Donation Bins are available throughout Tennessee, Colorado, Texas, Florida, Michigan, Indiana, Atlanta, Oklahoma, Arizona and Southern California. ATRS is committed to keeping textile waste from local landfills and promoting a greener tomorrow. For press inquires contact pr (at) atrsonline (dot) com.