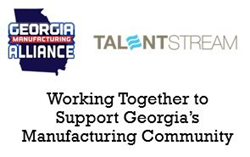 Working together to help support Georgia's manufacturing community.
Atlanta, Georgia (PRWEB) April 28, 2016
In a move designed to provide manufacturers with a practical ongoing avenue to develop their workforces, the Georgia Manufacturing Alliance (GMA) and TalentStream have announced a strategic partnership that will formally kick off this month.
"Our organization continues to expand on our mission to support and serve Georgia's manufacturing community," said Jason Moss, CEO of GMA. "We are pleased to partner with TalentStream to facilitate professional development opportunities for our members. If our internal membership surveys tell us anything, it's that Georgia manufacturers are looking for training and professional development opportunities to continue to grow their workers professionally. This new partnership has been formed to effectively address this critical need."
TalentStream is a leading staffing & recruiting firm that helps manufacturers find premier technical talent in the IT, Engineering and Supply Chain space. Scott Luton, TalentStream's Managing Partner, has served on the Georgia Manufacturing Alliance leadership team in past years and also maintains active leadership roles with industry organizations such as APICS and the Association for Manufacturing Excellence (AME).
"Our firm focuses on helping manufacturers find the technical talent they need to grow, be it ERP implementation support or maintenance technicians or CAD designers. But we wanted to offer more value to the manufacturing industry than the new talent alone - - we wanted to provide manufacturers with a means to develop the current talent they have on board already," said Luton.
"The current War for Talent is very real. To compete, manufacturers must attract, develop and retain talent. This initiative is part of our firm's effort to support this full cycle. If an organization can continue to build capacity and capability by developing its current team, it takes just a little bit of pressure off the need to find new talent. Plus, the current employees typically really appreciate the fact that their company is willing to invest in their professional growth and development," said Luton.
Moss cited the 2016 Global Manufacturing Competitiveness Index released recently by Deloitte, which projects the U.S. becoming the #1 ranked environment in the world for manufacturers by 2020.
"Global and domestic manufacturing CEOs agreed on one critical thing: talent remains the most critical driver for manufacturing competitiveness in 2016, just like in the past six years. Through creative partnerships with leading firms like this, the Georgia Manufacturing Alliance wants to help its members not just compete - - but win," said Moss.
Early offerings as part of this joint initiative include a Lean Boot Camp on June 28 in Duluth, GA; a front-line leadership skills workshop on July 28-29 in Atlanta, GA; and a Total Productive Maintenance (TPM) Boot Camp to be scheduled in August. Future offerings planned will include training on Leadership Development, Human Resources and Operational Excellence.
About TalentStream
Since 2013, TalentStream has served its client companies to provide the high-skilled technical talent they need in the areas of IT, Engineering and Supply Chain, on both a Direct Hire and Contract basis. The company maintains a robust recruiting pipeline throughout the Southeast, is a WBENC-certified women-owned business and has developed an industry leading customized recruiting process called STREAMline for Success©, which ensures the right candidates are placed at the right companies at the right time.
About the Georgia Manufacturing Alliance
The Georgia Manufacturing Alliance is a professional organization founded in 2008 to support Georgia's manufacturing community. GMA provides monthly plant tours, educational sessions and unique networking opportunities designed to help make profitable business connections for its members. To learn more about the organization, visit http://www.GeorgiaManufacturingAlliance.com
Contact
Scott W. Luton. Managing Partner
TalentStream | http://www.talentstreamstaffing.com
scott.luton(at)talentstreamstaffing(dot)com
678.296.5268
###