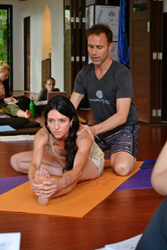 Koh Samui, Thailand (PRWEB) April 28, 2016
Yoga has become an international sensation, with classes popping up in studios, gyms, and community centers around the world. The practice began in India in ancient times, but Thailand has long been the epicenter of modern yoga teacher training. Centered Yoga, which conducts its training at Samahita Retreat, located on the beautiful tropical island of Koh Samui, offers prospective teachers and advanced students the opportunity to deepen their practice at the all-inclusive lifestyle resort, surrounded by the natural wonders of Thailand.
For prospective yoga teachers, Centered Yoga provides both a 200-hour Foundation program and an assortment of Advanced Teacher Training courses. Both programs are fully accredited by the Yoga Alliance. The 200-hour program is a 4-week long intensive, while the Advanced Teacher Training courses typically last for one to two weeks, or 50 -100 hours per course.
Centered Yoga Calls in the Experts
Teachers at Centered Yoga include some of the most respected names in yoga today. With classes strictly capped at a 1:6 teacher-student ratio, students can be confident that they will have meaningful one-on-one time with the experts.
Paul Dallaghan: Centered Yoga founder Paul Dallaghan has long been a student and close personal friend of some of the most respected yogis alive today. He is one of just three senior students of Sri O.P. Tiwari, and is one of a few to be personally certified in Ashtanga Vinyasa by the late Sri K. Pattabhi Jois. Paul is currently working with Emory University in Atlanta, Georgia, in the Biological Anthropology PhD program, bringing yogic practices and philosophy to the scientific field.
Arielle Nash-Degagne: With a degree in Human Kinetics and advanced certifications in a variety of anatomy and physiology concentrations, this former coach to elite athletes brings her expertise to Centered Yoga's teacher training courses.
Elonne Stockton: Originally self-taught, Elonne Stockton decided to deepen her practice after graduating from college in 2001. Following a yoga retreat to Sivananda Retreat in the Bahamas in 2002, she set aside her journalism career to follow a full-time yoga teacher path. Today, she has logged more than 5000 contact hours with Paul Dallaghan and Sri O.P. Tiwari. She teaches regularly for Centered Yoga, and conducts traveling workshops around the world.
Sri. O.P. Tiwari: Key disciple of the legendary Swami Kuvalayananda, Sri O.P. Tiwari inherited the famed Kaivalyadhama Yoga Institute near Bombay upon the Swami's passing. Today, he is a mentor and teacher of Paul Dallaghan, connecting Centered Yoga to the deep lineage of pranayama upon which its coursework is based. In 2016, students have a rare opportunity to learn directly from Tiwari in the Continuing Education Course entitled The Practice and Lineage of Pranayama.
Centered Yoga's strong focus on lineage, scientific research, and expertise ensures a safe and supportive practice for all of the center's students. Those who take courses at Centered Yoga become part of an extended family with a deeply rooted international community and ongoing opportunities for lifelong growth. They also receive lifetime discounts for programs at Samahita Retreat.
Upcoming 200-hour trainings for 2016:
May 7th - June 4th
August 6th - September 3rd
October 29th - November 26th
About Centered Yoga
The residential training for Centered Yoga is located on beautiful Koh Samui, Thailand at Samahita Retreat. Centered Yoga (http://www.centeredyoga.com) is Asia's leading yoga teacher training institute. Early bird discounts for training are available for those who book well in advance. All prospective students are encouraged to sign up for Centered Yoga's newsletter for more information or email info(at)centeredyoga(dot)com directly.