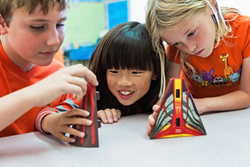 We are honored to be included in a group of such prestigious organizations which are all committed to advancing STEM in our schools
Saratoga, Calif (PRWEB) April 27, 2016
Stratford School, a Silicon Valley-based educational leader, was recognized in a release from The White House entitled "Fact Sheet: Advancing Active STEM Education."
The White House issued the publication during an event focused on the importance of science, technology, engineering, and math (STEM) learning in early education. The event was held in partnership with the U.S. Departments of Education, Health and Human Services, as well as Invest in US to celebrate a broad range of public- and private-sector leaders committed to STEM early childhood learning across the country.
"In March, the White House asked us to submit details about our STEM curriculum and teaching methods," says Sherry Adams, Stratford Founder. "It is clear that a STEM education is critical for the next generation, and this is part of Stratford's educational promise. One notable thing about Stratford's approach is that we start teaching STEM fundamentals to students at age three. We also integrate visual/performing arts and liberal arts into STEM. Adding the 'A' to STEAM enables us to help our students accelerate learning beyond technology in order to improve their ability to work creatively and collaboratively to solve problems."
Stratford School is the first educational institution in the state of California to earn the prestigious Carnegie STEM Excellence Pathway Digital Seal for excellence in education. Stratford was one of the first schools in the San Francisco Bay Area to commit to and to fully integrate visual and performing arts, liberal arts in STEM beginning in 1999. Stratford's innovative STEAM curriculum is taught to students in preschool through the 8th grade. This method enables Stratford students to develop a lifelong appreciation of STEM and promotes critical thinking, creativity, collaboration and problem-solving skills that are required for the jobs of the future.
Stratford School's STEAM curriculum includes the following structure:
1) Problem identification
2) Team collaboration to create design solutions
3) Solutions testing
4) Refinement of promising solutions
5) Continuous evaluation and improvement of the solutions
Stratford regularly invites leading Silicon Valley and Bay Area engineers and scientists to its 18 campuses to show how the STEAM curriculum plays out in real life applications. Students are introduced to careers in engineering and science through fun, hands-on, problem-solving activities that provide real-world connections. Examples of Stratford classroom projects include: creating blood vessels, heart and lung models, designing the city of the future, programming robots, devising systems to harvest water from fog, creating mobile apps, and more. See more here.
"We are honored to be included in a group of such prestigious organizations which are all committed to advancing STEM in our schools," says Barbara Timm-Brock, Stratford COO. "Stratford's commitment to STEAM enables our more than 5,000 students to think more holistically, creatively and collaboratively when it comes to issues facing engineers, scientists and leaders in the 21st century. Our parents often comment that our STEAM curriculum amplifies the creativity and the fun factor in classrooms. We are proud that Stratford's student body spends more than 20,000 hours each week engaged in teamwork and discovery on various STEAM projects."
About Stratford School
Established in 1999, Stratford School is a leading independent private school founded on the belief that education is a significant influence in the life of a child. Stratford offers an accelerated curriculum from preschool through eighth grade with an emphasis in the areas of STEAM (Science, Technology, Engineering, Arts, and Mathematics) that incorporates music, physical education, foreign language, and social skills development. Stratford's goal is to prepare and mentor students for admission to competitive high schools and colleges. All students are provided the necessary tools to excel, and are encouraged to participate actively in leadership, community service, and extracurricular activities. Visit http://www.stratfordschools.com for more information.