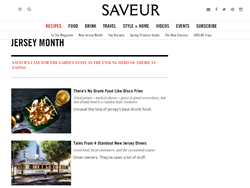 ALLENHURST, NJ (PRWEB) April 27, 2016
Gourmet food and wine magazine and website, Saveur has dedicated the month of April to New Jersey cuisine. The series features articles of noteworthy food and eateries highlighting the Garden State's best eats. The publication has covered topics including: Beachfront dining, the dishes you'll find only in New Jersey, the best Turkish bread from Patterson, Newark's Portuguese cuisine, a tribute to the popular Knife and Fork Inn in Atlantic City, among others.
Saveur is a nationally distributed magazine whose mission is to explore and celebrate the world of food. Jersey Month has been described as "the unsung hero state of American eating." Stories can be found at http://www.saveur.com/tags/jersey-month.
About Bielat Santore & Company
Bielat Santore & Company is an established commercial real estate firm. The company's expertise lies chiefly within the restaurant and hospitality industry, specializing in the sale of restaurants and other food and beverage real estate businesses. Since 1978, the principals of Bielat Santore & Company, Barry Bielat and Richard Santore, have sold more restaurants and similar type properties in New Jersey than any other real estate company. Furthermore, the firm has secured in excess of $500,000,000 in financing to facilitate these transactions. Visit the company's website, http://www.123bsc.com for the latest in new listings, property searches, available land, market data, financing trends, RSS feeds, press releases and more.