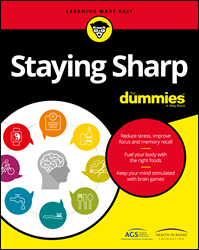 (PRWEB) April 28, 2016
For the 10,000 Americans who turn 65 on any given day, "getting wiser" with age also means getting smarter about an important part of overall well-being: mental health. Now, a new book—Staying Sharp For Dummies (Paper; ISBN: 978-1-119-18779-0; Available Now)—outlines simple things you can do to promote healthy aging and "cognitive vitality," which can include everything from honing your memory and managing stress to eating healthy foods as part of living well.
We all know that wisdom increases with experience, but staying mentally sharp means being proactive—especially since our brains change as we age, affecting how we learn and even remember information. The good news is there are lots of things you can do to keep your brain focused and working well throughout your life, and Staying Sharp For Dummies offers practical, how-to tips to do just that.
Endorsed by the American Geriatrics Society (AGS) and the AGS's Health in Aging Foundation, Staying Sharp For Dummies explains how keeping physically fit, eating right, managing stress, and even connecting with others can help give your brain a boost to stay sharp at any age, especially in your golden years.
A related book, Alzheimer's & Dementia For Dummies (Paper; ISBN: 978-1-119-18773-8; Available May 2016), slated for release in May, will feature a condensed, AGS-endorsed blend of best practices from earlier versions of Alzheimer's For Dummies and Dementia For Dummies. This new hands-on guide will walk through different scenarios you may encounter when living with Alzheimer's disease or dementia as an older adult, caregiver, family member, or friend.
About The American Geriatrics Society:
Founded in 1942, the American Geriatrics Society (AGS) is a nationwide, not-for-profit society of geriatrics healthcare professionals dedicated to improving the health, independence, and quality of life of older people. Its nearly 6,000 members include geriatricians, geriatric nurses, social workers, family practitioners, physician assistants, pharmacists, and internists. The Society provides leadership to healthcare professionals, policymakers, and the public by implementing and advocating for programs in patient care, research, professional and public education, and public policy. For more information, visit americangeriatrics.org. The Health in Aging Foundation is a national non-profit established in 1999 by the AGS to bring the knowledge and expertise of geriatrics healthcare professionals to the public.