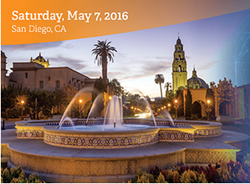 Not in 20 years has our knowledge base in mental health expanded so rapidly. The Psych Congress 1-Day Regional Meeting Series is the ideal way to catch up on these practice-changing new findings. -Rakesh Jain, MD, MPH
Malvern, PA (PRWEB) April 27, 2016
HMP Communications Holdings, LLC announced today the program lineup for its May 7 Psych Congress 1-Day Regional Meeting that will take place in San Diego, CA. The meeting, which will be held at the Westin San Diego Gaslamp Quarter, is a condensed version of the annual U.S. Psychiatric & Mental Health Congress (Psych Congress), a national, independent, cross-discipline educational conference, designed for mental health and primary care clinicians looking to advance their psychopharmacology, psychotherapy, and wellness knowledge.
Led by an esteemed faculty of mental health and primary care researchers and educators, the meeting provides continued professional development and the opportunity to earn up to 6.5 CME/CE credits.
The agenda offers practical education aimed at improving the competence and confidence of clinicians in developing personalized treatment strategies for their patients battling mental illness. Sessions include:

Effective Therapeutic Alliance: How to Utilize Trauma-Informed Therapeutic Tools
The Emerging Role of the Immune System in Depression
Walk on the WILD Side: In Pursuit of Mental Wellness
Addressing Adherence Challenges Across the Life Cycle of Schizophrenia
Improving Outcomes in Major Depression: A Focus on Cognitive Symptoms
Everything Old is New Again: Psychedelics and 21st Century Psychiatry
Ensuring Early Identification and Intervention of Alzheimer's Disease: Guidance for Mental Health Professionals
How to Fix the Mix: Diagnosis and Treatment of Mixed Mood States
"Facing the Stealthy Intruder:" An Update on Generalized Anxiety Disorder
"Not in 20 years has our knowledge base in mental health expanded so rapidly. The Psych Congress 1-Day Regional Meeting Series is the ideal way to catch up on these practice-changing new findings while connecting with a room of experts and peers. With a focus on both research updates and clinical application, this meeting is ideal for a range of practitioners, from mental health to primary care," said Psych Congress co-chair and regional meeting faculty member, Rakesh Jain, MD, MPH.
Tuition is $119 per person. Group registration discounts for three or more colleagues from the same organization are available. To learn more about the regional series and to register, visit http://www.psychcongress.com/psychregionals. In addition, participants can connect with Psych Congress on Facebook or Twitter using #psychcongress.
About HMP Communications Holdings, LLC
HMP Communications Holdings, LLC (HMP), a collaborative formed by HMP Communications, LLC and the North American Center for Continuing Medical Education, LLC (NACCME), is a multi-channel leader in healthcare content and education, with a mission to improve patent care. The company produces clinically relevant, evidence-based journals, events and accredited, continuing education for the healthcare community, across a range of therapeutic areas. Its brands include Consultant, the monthly, award-winning journal relied upon by primary care practitioners and the Symposium on Advanced Wound Care (SAWC), the largest wound care meeting in the world. For more information, visit hmpholdings.com.
# # #
Tags: Psych Congress, Psych Congress 1-Day Regional Meeting, mental health, mental health education, HMP, NACCME